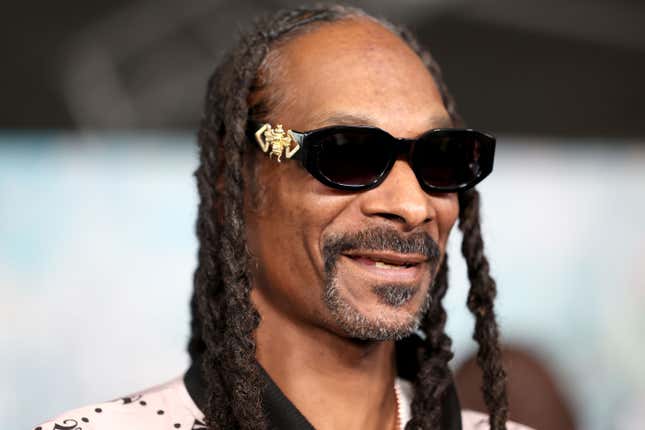 No one has successfully transformed their brand better than Snoop Dogg. He's gone from "Gin and Juice" to hanging out with Martha Stewart, selling Skechers during the Super Bowl and leading youth sports leagues. Now he's ready to surprise us again with a bid to buy a major sports team. However, it's not the sport you're thinking of. On Monday, the rap legend announced on Instagram that he was joining an ownership group that is bidding on the NHL's Ottawa Senators.

Is That Black Enough for You?!? Is Our TV Pick This Week
"Amazing what @neko_sparks is trying to do in Ottawa & I'm looking forward to being apart of that ownership team," he wrote. "I WANNA BRING HOCKEY TO OUR COMMUNITY."
According to The Athletic, Snoop is joining entrepreneur Neko Sparks in a group where the majority of investors are people of color. This is big for the NHL, which is seen as a white sport that isn't really for Black people. Yes, there have been notable Black players over the years, but it doesn't have the wide reach into the Black community that football and basketball do. With this move, Snoop is looking to change this. On Tuesday, the "Drop It Like it's Hot" artist appeared on ESPN's First Take to discuss his decision.
"I've been watching hockey for about 25 years now. I'll watch it more and more when kids that look like me play the game. But I'm not seeing it being offered to the kids over here in America. I know how big it is in Canada," Snoop said. "I've been down with the NHL for a long time. Going to games, announcing games, being a part of the society. This opportunity came for me to be a part of the ownership of the Ottawa Senators, so I jumped on it. The plan that we have is to also go and build a Snoop Youth Hockey League outside of Canada, so kids in urban communities can learn about hockey, can play the sport and find ways to get into this great thing that's called hockey. Right now the NBA and the NHL is having some great playoff games and the kids need to know that there is an option to play hockey if you look like me."
Snoop isn't wrong. The NHL Playoffs have been amazing. The games have been unpredictable, edge-of-your-seat excitement. Plus, with Stanley Cup favorites, the Boston Bruins, going out in the first round, things are pretty wide open now. This is a great time to get into hockey.
He also explained how his Snoop Youth Football League has helped improve the lives of the kids and families who have participated. Snoop pointed out that C.J. Stroud—who was recently the No. 2 pick in the 2023 NFL Draft—started with his football league. He's hoping he can use hockey to do the same thing for the Black community.
"I'm saying if we was to bring another sport, such as hockey—which is on TV, and they could see it—now these kids can learn how to play the sport, they can understand that this is another way out," he said. "You don't have to play football, basketball and baseball. Here's another option. And at the same time, we will grow the sport, and it will grow as a Black owner being part of a big organization with majority ownership. Never done before, so it can be the first."
I know hockey doesn't feel like it's welcoming to Black audiences, but it's actually really fun to watch. If the NHL is serious about drawing in a more diverse fanbase and getting more Black kids interested in the sport, Snoop Dogg is the perfect person to partner with.