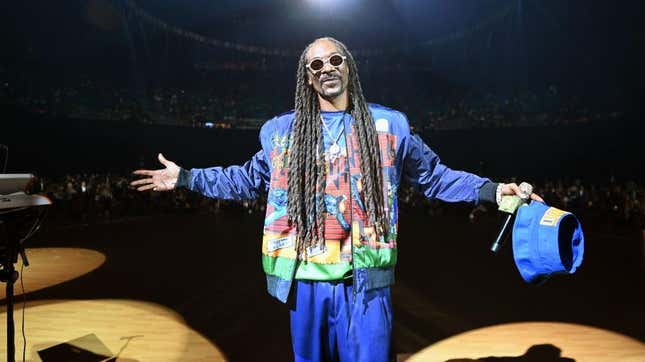 Hip-hop fans rejoice! After Snoop Dogg removed all Death Row albums from streaming platforms less than a year ago, he's finally come to his senses and put all of the previously removed work back on streaming services.
MAC'S Whitney Houston Make Up Collection Is Our Swag Of The Week
The owner of the iconic rap label made the announcement on Thursday in an Instagram post, writing, "We heard you. The time has come. Death Row Records catalog is back streaming everywhere tonight 9pm PST." In the post, he shared a dope Death Row-themed video montage, featuring some of the label's most iconic music moments.
He officially celebrated the release of the entire label's catalog by simply writing, "We back," on an Instagram post featuring a screenshot of some of Death Row's most recognizable projects.
Why did he take Death Row's catalog off of streaming in the first place? 
After taking ownership of Death Row Records in February 2022, he later announced that he would be removing the entire label's catalog from streaming services in April 2022.
He delved into his reasoning behind the decision on an episode of N.O.R.E. and DJ EFN's popular podcast, Drink Champs. In the interview, he explained, "First thing I did was snatch all the music off those platforms traditionally known to people because those platforms don't pay."
He continued, "And those platforms get millions and millions and millions of streams and nobody gets paid other than the record labels. So what I wanted to do was snatch my music off, create a platform which is something sort of similar to Amazon, Netflix, Hulu. It'll be a Death Row app. And then the music, in the meantime, will live in the metaverse."
Obviously, his plans to bring Death Row into the metaverse and turn it into an NFT fell through.
What's the first Death Row album you'll be listening to now that it's back on streaming?
It felt like such an odd decision to take Death Row's music off of streaming services because it erases an entire area of hip-hop from a newer generation of rap listeners. But, now that it's back, long-time fans of the label and new ones who are just learning about the label can enjoy some of the best and most influential music of all time.
There are so many albums that come to mind when you think of all the work Death Row has put out: The Chronic, All Eyez On Me, Dogg Food, Don Kiluminati: The 7-Day Theory, Above the Rim (Soundtrack).
If anyone decides to listen to those albums first, I can't blame them. They are all excellent. But, I'll be opting for Snoop Dogg's debut album, Doggystyle. Even though Snoop still went on to have a very successful career, nothing he's put out since this project has measured up.
His rapping is witty, sharp and creative. It's unlike anything he's ever put out. Yes, there are some topics he raps about that I'd rather not discuss out loud, but this album is still one of the most enjoyable listens of all time and I can't wait to listen to it again now that it's back on streaming platforms