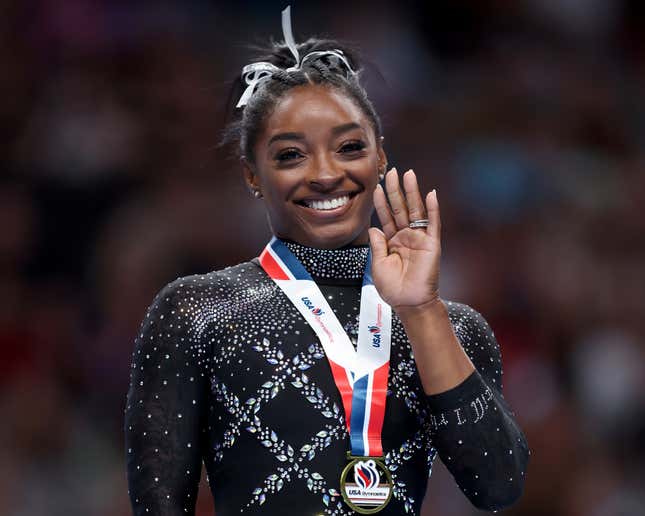 Simone Biles solidified her status as the GOAT in gymnastics last night, making history by winning her eighth national all-around title, the most of any gymnast. Biles made this huge accomplishment at the US Gymnastics Championships in San Jose, California.

Tackling A Black Maternal Health Crisis & Embracing Reproductive Justice | The Root Institute
She secured her title with her floor exercise, scoring an impressive 15.400 in a performance that her coach, Laurent Landi felt was her best one yet. The all-around title combines the scores of the vault, floor routine, uneven bars, and balance beam routines. Her ending score for the weekend to snatch the title was 118.40, four points ahead of second-place gymnast Shilese Jones who scored a whopping 114.550 points.
The only other gymnast to get closest to the now-broken all-around title record was Alfred Jochim in 1933, with seven national all-around titles. At 26 years old, Biles also became the oldest gymnast to win a U.S. Gymnastics title.
Biles has had a huge year personally and professionally, as she got married to the Green Bay Packers' Jonathan Owens in April, and registered for her first gymnastics competition in two years in June. She was triumphant at the U.S. Classic, scoring an astounding 59.100. She posted on on her Instagram shortly after the win captioning the post, "tears of joy as I make this comeback, surrounded by the love you've shown! thank you for believing in me."
Biles took a break from the sport during the Tokyo 2020 Olympics (moved to 2021 due to COVID-19) after struggling physically and mentally throughout her routines, shockingly dropping out of the competition. According to ESPN, Biles has decided not to reveal her goals for this season and didn't have cameras following her over the weekend either, possibly as a way to keep herself focused and relieve the social pressures she felt a of couple years ago at the Olympics. She has yet to confirm if she'll be competing in the 2024 Paris Olympics. At 27 years old, Biles could be one of the oldest gymnasts competing, but clearly not the weakest.