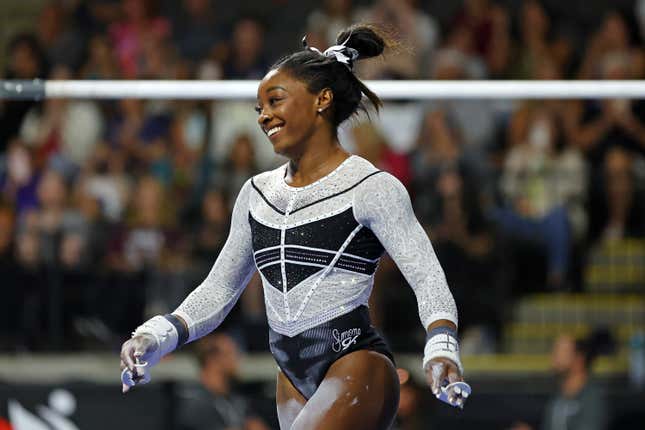 Olympic gold medalist Simone Biles is back and better than ever, securing her first win at the U.S. Classic over the weekend after a two-year hiatus.
Courtney B. Vance in Heist 88 Is Our Black TV Pick of the Week
Per People, the the gymnastic GOAT took home the W in the Core Hydration Classic with an overall score of 59.100. Following her win, she took to social media to celebrate her magnificent return and thank supporters for their love.
"Tears of joy as I make this comeback, surrounded by the love you've shown! thank you for believing in me," she captioned in a post to Instagram. Hubby Jonathan Owens, whom she wed back in April, also expressed his adoration and praise for his wife's win, writing in the comments section: ""So damn proud of you baby. Makes my day seeing you so happy and back doing what you love, and having FUN!!! I love you so much"
As previously reported by The Root, this marks Biles' first competition since she withdrew from five out of six events at the 2020 Tokyo Olympics. At the time, she explained that the decision was made in order to preserve her mental health and safety and revealed she was suffering from the "twisties"—a condition that causes gymnasts to lose track of their surroundings while in the air.
However, thanks to consistent efforts to preserve both her mental and physical well-being, the champion gymnast looks poised and ready to take over once again.
"It means the world because after everything that transpired in Tokyo, I worked on myself a lot," Biles said to the BBC following her recent win. "I still do therapy weekly and it has just been so exciting to come out here and have the confidence I had before."
She continued: "Everything has fallen into place. I feel really good about where I am now mentally and physically. I still think there are some things to work on in my routine but, for the first meet back, I would say it went pretty well. I'm very shocked and surprised."
We aren't! Once a GOAT, always a GOAT. Congratulations Simone, Paris Olympics here we come!