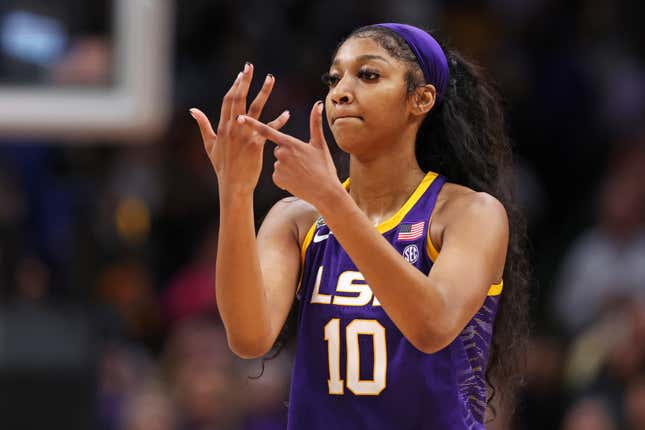 Since winning the national championship, LSU basketball star Angel Reese has been the subject of a lot of discussion—both good and bad. While she's been celebrated for being a confident Black woman who isn't afraid to speak her mind, others took issue with her on-court trash talk and refusal to accept First Lady Dr. Jill Biden's apology. However, it looks like Angel has one of LSU's most prominent alums on her side. On The Big Pod, NBA legend Shaquille O'Neal noted Reese's excellence, explaining why he believes she's the university's best athlete.
American Ninja Warrior: Season 15 Is Our TV Pick of The Week
"She's probably the greatest athlete ever to come out of LSU sports. You heard it here first," he said. "Male and female. Ever."
The Hall of Famer added that he feels this way because she actually won a championship on her first try. He also made sure to clarify that his comments are about all athletes, not just women.
"See, a lot of us got the package and we still got the package in our truck. She delivered that package," O'Neal said. "It's a lot of names to throw around, men and women, but she is probably the greatest athlete. Some people are going to exclude it to 'woman athletes.' I'm not doing that. She is the greatest athlete to ever come out of LSU because she got it done."
When NFL quarterback Joe Burrow—who led LSU's football team to a national championship in 2019—was brought up, Shaq doubled down on his support for Reese,
"Joe Burrow got it done a couple of years ago, but she is way more athletic than he is," he said.
For a star of Shaq's magnitude to express this kind of respect for Angel Reese's abilities is huge. When he was in college, Shaq was the most dominant force in the sport, so if anyone recognizes extraordinary athletic talent, it's him.
What's been lost in this whole dust up over Reese trash talking Caitlin Clark and standing up to the White House, is the fact that she's an amazing basketball player with an incredibly bright future. Shaq obviously understands that this moment is one chapter in her story.