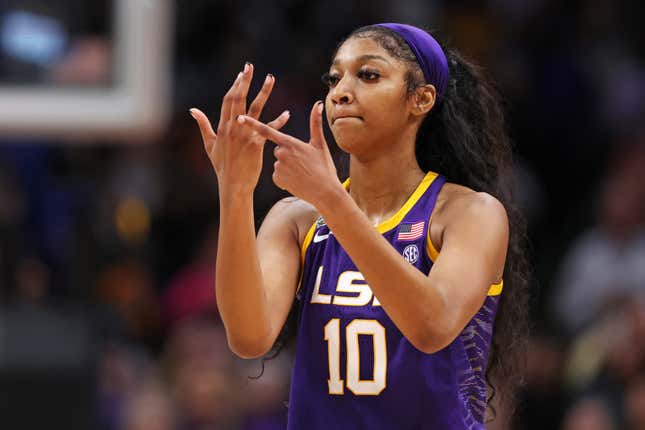 Don Imus died four years ago, and we found out over the weekend his spirit still roams the Earth looking for other white people to possess anytime a Black woman athlete makes for a too-tempting target.
A Black Lady Sketch Show Is Our Black TV Pick of the Week
Last night that target was Angel Reese, the LSU forward who, along with her teammates, were the buzzsaw that shredded Caitlyn Clark and her Iowa Hawkeyes in the NCAA Women's Championship. Until then, it was Clark, playing with the destructive force of a power tool, unleashing lethal shots from long range that subdued every opponent she faced, including a Dawn Staley-led South Carolina team that hadn't lost a game in almost two years. If it was just about Clark's basketball prowess, this would be less of a story. But Clark wasn't content to become the star of this year's March Madness just for her jumper; she became the newest Queen of Shit Talk. She told a Louisville player to shut up because her squad was down by 15 points. She disrespectfully waved off South Carolina guard Raven Johnson as if she wasn't even worth defending while Johnson had an open jumper beyond the arc.
And most notably, Clark spent most of the tournament waving her hand in front of her own face, reviving WWE star John Cena's "You can't see me" taunt. And while she did all this, fans and commentators rejoiced. After all, it's fucking basketball, and shit talk is part of the game. That is, until a Black woman like Reese returns the favor, and white America decides to circle the wagons around her.
On cue, Imus' ghost took control of the Twitter account of twice ex-ESPN and twice ex-MSNBC host and now podcaster Keith Olbermann, who after decades of covering sports and politics, finally drew the line at Reese giving Clark back the same shit-talk that Clark delivered all tournament long.
Olbermann wasn't the only one who got this dead wrong; social media is filled with awful takes about how Reese's gesture was "classless" and "unsportsmanlike," generally with no mention of Clark doing the same thing and being lauded for it. Olbermann later dropped a half-apology, acknowledging that he tweeted without knowing that Clark had taunted other opponents in the tournament, but still doubling down on the idea that there was something wrong with either player talking trash. "Reese was named the MVP of the tournament, and nobody will remember that, nor the L-S-U crown, just the fact that women's hoops has now achieved parity with the men: its stars can be classless winners who are willing to overshadow their own team's victories."
If you've never hooped, Keith, just say that. Literally nobody who watched last night's game will forget it anytime soon, and not least because of the glorious moments of trash talk between Reese and Clark. If that was your takeaway from basketball that good, that exciting, you just might not like the sport all that much. Or more to the point, you just might be more committed to the idea that somebody like Clark – a white star holding her own in a sport currently dominated by Black athletes with big personalities – needs protecting.