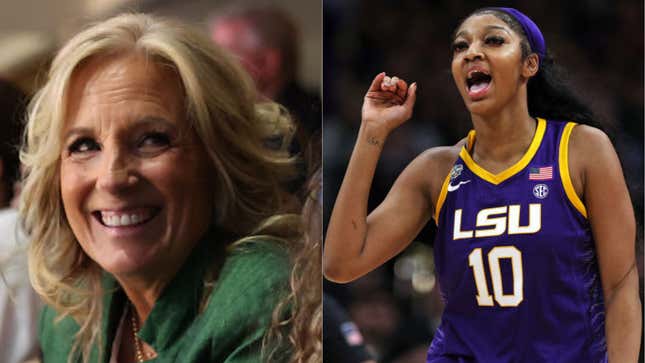 Updated 04/5/2023 at 10:04 a.m. ET:

Instead of celebrating the LSU women's basketball team for all of their accomplishments on the floor, people not even involved in the game are doing all they can to make it about everything but, even the First Lady.
The Biden And Trump Classified Documents Scandal Explained
A day after LSU's 102-85 victory over Iowa to claim the women's college basketball national championship, Jill Biden thought it would be good for both teams to make a trip to the White House.
During her visit to the Colorado State Capitol, Jill, who attended the game said "I know we'll have the champions come to the White House; we always do. So, we hope LSU will come. But, you know, I'm going to tell Joe I think Iowa should come too because they played such a good game."
Jill, how about you keep that to yourself?
Since when did college athletics give out participation trophies? When was the last time the White House invited both the winner and loser of a championship game for a visit? When do runner-ups enjoy the spoils of a champion?
NEVER.
These young ladies aren't children. They've been involved in competitive sports all their lives and are among the best athletes in the country. The last time they probably got a participation trophy was in elementary school. So why are we doing it now?
They know the winners get the hardware and the losers go home with nothing. That's life, and it'll continue for years to come.
On Tuesday, in an attempt to clarify her comments, the first lady's press secretary stated on Twitter to clarify her comments, writing, "Her comments in Colorado were intended to applaud the historic game and all women athletes. She looks forward to celebrating the LSU Tigers on their championship win at the White House."
Thankfully, President Joe Biden has not expressed the same sentiments as his wife and only extended an invite to LSU.
Response to Jill Biden's Suggestion
Although everyone on social media already thought the First Lady inviting both the winner and loser of the national championship was an idiotic idea, so did the ladies of LSU.
Shortly after Biden made this appalling statement, unanimous first-team all-American and the Most Outstanding Player of the Tournament, Angel Reese, tweeted her disdain for the idea, writing in a tweet, "A JOKE."

Instead, one of her teammates, Alexis Morris, suggested that LSU celebrate their win at Michelle Obama's crib instead of the White House.
Reese shared that sentiment in an interview with I AM ATHLETE, where she said that a lot of phone calls were made after Jill Biden suggested that both teams visit the white house.
During the interview, she said, "I don't accept the apology. I said what I said. You can't go back on certain things that you say. You felt that they should've came because of sportsmanship right? They can have that spot. We'll go to the Obama's. We'll see Michelle. We'll see Barack."
It looks like the damage has already been done. But at least President Biden shut down any possibility that Iowa will be invited to the White House. But, you never know. As one Black man once said, "That's what White people do, when they lose, they just create new rules and shit."