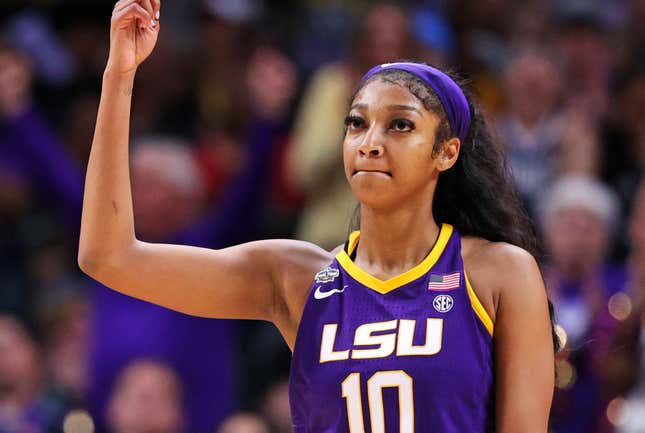 Everyone can calm down now.
LSU basketball star Angel Reese will accompany her teammates to the White House for their championship visit. On Friday, in an interview on ESPN's SportsCenter, when asked about the controversy surrounding the team's White House visit, she confirmed that she would join her team for the special moment.

Here's How Medicaid Expansion Can Play A Role In Black Maternal Healthcare
"You don't get that experience ever, and I know my team probably wants to go for sure and my coaches are supportive of that, so I'm going to do what's best for the team and we've decided we're going to go," Reese said. "I'm a team player. I'm going to do what's best for the team. I'm the captain."
Let's recap how all this craziness started: After an amazing NCAA women's basketball championship tournament, LSU defeated Iowa in the most-watched women's basketball games ever. First Lady Dr. Jill Biden was at the game and was so impressed with both teams that she suggested Iowa also be invited to the White House. While I understand her intentions, it wasn't a good idea. After receiving backlash from fans, as well as Reese, Dr. Biden's office clarified her comments, with press secretary Vanessa Valdivia tweeting they "were intended to applaud the historic game and all women athletes." However, the damage was done.
"In the beginning, we were hurt. It was emotional because we know how hard we worked all year for everything," Reese told SportsCenter about the First Lady's suggestion that Iowa visit the White House.
This situation came on the heels of Reese being criticized for doing the "You Can't See Me" hand gesture back to Caitlin Clark after LSU won the game. There was all this talk about fairness, sportsmanship and honoring the game. Of course, I don't remember any of that talk happening when Clark did the same celebration during the Elite 8. Once again, the Black woman is only allowed to celebrate and express her emotions in a certain way. Even when she's insulted in front of the whole world by the First Lady, she can't get too upset at having her accomplishments devalued.
Angel Reese and her LSU teammates deserve to celebrate and enjoy their National Championship without all this unnecessary discourse surrounding it. Hopefully, now that she and the team have confirmed they will attend the White House and meet with the Bidens, everyone can move on.