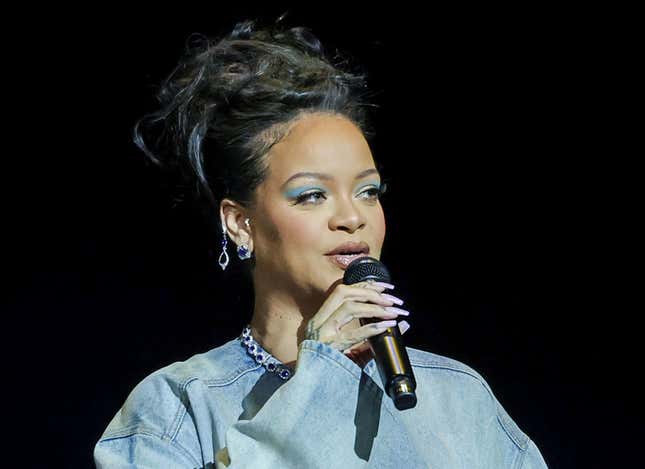 At Hollywood's annual trip to Las Vegas for its CinemaCon presentation to theater owners, the most anticipated films of the year showcased what's in store for movie fans. Many of these films feature your favorite Black stars and characters, so we need to check in and see what unexpected surprises were dropped. Since everything she does is interesting, we're starting with Rihanna's unexpected move to Smurf village.

Yvette Nicole Brown Talks Frog And Toad, A Black Lady Sketch Show & More on That's So Random
The Smurfs Movie
Though she's in the third trimester of her pregnancy, Rihanna shocked CinemaCon attendees by appearing on stage to announce that she will voice Smurfette in the latest animation film featuring the adorable blue creatures. Per Variety, the Savage x Fenty boss is also a producer on the film and will contribute original songs. Rih joked that Smurfette wasn't her first choice, saying, "I tried to get the Papa Smurf role but It didn't work out."
As cool as this news is, it will be a while before RiRi gets her Smurf on. The film is currently scheduled for release on February 14, 2025.
The Color Purple
Oprah Winfrey hit the stage for a full circle moment as she touted the upcoming musical adaptation of The Color Purple. Her breakout performance as Sofia in the 1985 film netted her an Oscar nomination and a lifetime of people quoting her character's most famous lines. She's a producer on the movie, which is based on the Broadway production.
"The Color Purple in 1985 was the biggest and most important thing that ever happened to me and continues to be," she told the convention audience. "Now we're doing a brand new version that could only come because of the most perfect director."
If you've never seen the stage musical, it follows the same story as the movie. However, Celie and Shug's romance is given time to blossom, while Mister has a redemption arc and Celie feels like a more complete character. Plus, Fantasia absolutely brings down the house when she sings Celie's signature song, "I'm Here."
Hitting theaters Dec. 25, the film stars Fantasia as Celie; Danielle Brooks, who received a Tony nomination for playing the role on Broadway, as Sofia; Colman Domingo as Mister; Corey Hawkins as Harpo; H.E.R. as Squeak; Ciara as Nettie; and Taraji P. Henson as Shug Avery.
The Little Mermaid
It's no secret that we're super excited about the live-action remake of The Little Mermaid. Halle Bailey's Ariel promises to be an unforgettable version of the classic Disney princess. Through all the amazing footage we've seen so far, we haven't gotten a full look at Melissa McCarthy's Ursula. That changed at CinemaCon, where the full scene of her classic song "Poor Unfortunate Souls" was screened. Ursula is one of Disney's most memorable villains. McCarthy isn't known for her singing, so there have been questions about how she would handle the big moment. According to Variety, she "effortlessly hits all of the song's high notes." Based on what we see in new teasers, we have nothing to worry about. It looks like the Oscar nominee is the perfect foil to Ariel's love story.
"It was truly such an honor to play one of Disney's most delicious villains," McCarthy said. "Ursula is everything. She's dishy, she's a conniving broad. Maybe that's why I love her."
The Little Mermaid splashes into theaters May 26.
Spider-Man: Across the Spider-Verse
Spider-Man: Across the Spider-Verse returned to CinemaCon with new footage focused on Miles' relationship with Gwen Stacy. As we've seen in the film's trailer, the story revolves around the Spider People from all the parallel earths coming together to stop a threat from destroying the multiverse. In addition to Shameik Moore and Hailee Steinfeld returning as Miles and Gwen, the star-studded voice cast also includes Issa Rae as Jessica Drew/Spider-Woman, Daniel Kaluuya as Hobart "Hobie" Brown/Spider-Punk and Oscar Isaac as Miguel O'Hara/Spider-Man 2099.
Spider-Man: Across the Spider-Verse swings into theaters June 2.
Fast X
Last but certainly not least, the tenth entry in the Fast & Furious franchise was represented with Vin Diesel talking about family, because of course he did. He thanked theater owners for their support of the films and announced that Fast & Furious 11 would hit theaters in 2025. You didn't really think they were ending a multi-billion dollar franchise did you? Fast X introduces Jason Momoa as new bad guy, Dante Reyes, who also happens to be the son of Fast Five baddie Hernan Reyes. The latest movie features all the series' signature over the top stunts and ridiculous action sequences. But, that's why we love these films.
Fast X races into theaters May 19.