Updated 1/23/23 at 1:06 p.m:
Fans leaving Drake's January 21st show at the Apollo Theater in New York may have noticed an NYPD officer filming the audience. The footage, shared on Twitter by the New York Times's Jon Caramanica, had the internet questioning this move. However, in a statement to the entertainment publication Consequence, a spokesperson for the Office of the Deputy Commissioner, Public Information explained:
"The officer depicted in the video is a Community Affairs officer involved with the 28th Precinct's social media team. The officer was taking video for an upcoming Twitter post that will highlight local community events. The video will not be utilized for any other reason."
Though the officer's presence may have worried concertgoers (especially attendees of color) given the NYPD's track record with certain communities, we're relieved he was filming to merely capture the moment.
Original Post:
I'm still buzzing from the incredible night Drake brought to life at his performance at the legendary Apollo Theater, in collaboration with SiriusXM. Since becoming a father to his son Adonis in 2017, Drake hasn't graced the stage for a full performance in nearly 5 years. Let me tell you something: Don't call it a comeback because Drake showed us that he never fell off! The stage was transformed into a montage of different sets specific to Drake's career timeline and rise to becoming a musical icon.
He opened the show by taking us down memory lane sporting a Degrassi jersey and his new estimated $12.5M ​​diamond engagement-ring necklace. While standing in a mock set that replicated his childhood bedroom, he performed some of the greatest hits of his music catalog dating all the way back to his breakthrough song "Best I Ever Had" from 2009.
G/O Media may get a commission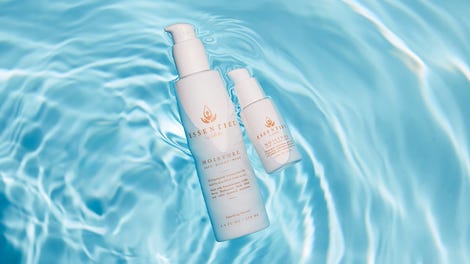 20% off
Essentiel by Adele
His set continued into a mock record label boardroom where he addressed the crowd in between performing more of his greatest hits. Drake chose to highlight the level of gratitude he had for all those close to him who supported him, including his mom who was in the audience and celebrating her upcoming 75th birthday. He also thanked his fans that have been down since day one…aka ME!
Some of the songs Drake performed included the aforementioned "Best I Ever Had," "Headlines," "HYFR (Hell Ya F*cking Right)," "God's Plan," "One Dance," "In My Feelings" and more. However, you can't speak on the legacy of Harlem and perform at the Apollo Theater without paying homage to the iconic rap group Dipset.

Drake had the crowd shaking the building as he set the stage with a Harlem bodega and brought out none other than Cam'ron, Jim Jones, Juelz Santana, and Freekey Zekey. Dipset performed major hits including "I Really Mean It," "Dipset Anthem" and "We Fly High (Ballin)". Drizzy also stood alongside the infamous group dressed in Cam'ron's famous pink mink. Before leaving the stage, Dipset gifted Drake with a custom OVO x Dipset bracelet.
"These guys right here from Harlem made us dress different, talk different, walk different, rap different all the way in Canada," Drake said, thanking them.
Drake's newest album, Her Loss, with artist 21 Savage marked the full circle to where he is now in his career. Of course, Drake had to do it up right and brought out 21 Savage to perform a handful of songs from the album for the first time on stage together. Some of the songs they did include "Rich Flex," "Privileged Rappers," "Knife Talk" and "Jimmy Cooks."
Now believe me, you needed sunglasses when you stepped into the Apollo because the STARS were out! But it wasn't just the celebrities that were guest performers that lit up the Apollo. The star-studded guest list was something only someone such as Drake could pull off. Celebrities in attendance included: Justin and Hailey Bieber, A$AP Ferg, Kevin Durant, Ice Spice, Odell Beckham Jr., Richie Akvia, Michael Rubin, Will Makris, Gayle King, A Boogie, and more.
This night was definitely an unforgettable one for all of Drake's fans and invited guests alike. In addition to the great merch that came along with the event, there was also an open bar (you read that right: an open bar at the Apollo theater). You could feel the energy surging in the room and the rise of excitement after every song change and beat drop. Drake closed out the show again thanking his fans and while on stage, he teased a joint tour with 21 Savage this year. If it is one thing that Drake made very clear for night one at the Apollo, it is that he has come this far and has no intentions of slowing down. New music may even be on the way.

"I appreciate all of those people that stick by me.… but I deeply appreciate everybody for continuing to support us," Drake said. "I've thought about a bunch of things in life, but at this moment in time none of those things are stopping making music for you, so I'll be here for you for a little bit at least. And I hope I can strike up more emotions for you, maybe this year. I might get bored and make another one, who knows!"
Tonight (January 22), Drake performs his second show which will be his last one at the Apollo for now.
The show will air on Drake's exclusive SiriusXM channel, Sound 42.