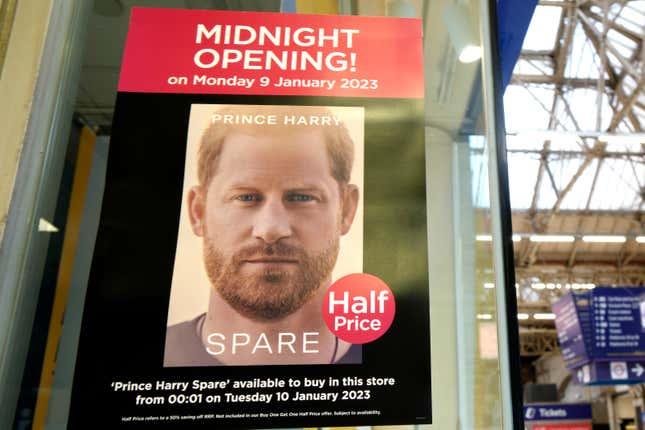 During a Sunday "60 Minutes" interview with Anderson Cooper, Prince Harry stated: "I will sit here and speak truth to you with the words that come out of my mouth, rather than using someone else, an unnamed source, to feed in lies or a narrative to a tabloid media that literally radicalizes its readers to then potentially cause harm to my family, my wife, my kids."
Caleb McLaughlin on Lebron James' Biopic Shooting Stars, Stranger Things, & First Big Paycheck
He didn't stop there. "Every single time I've tried to do it privately there have been briefings and leakings and planting of stories against me and my wife," Prince Harry explained to Cooper. The Duke of Sussex is preparing to release his tell-all memoir, Spare, on Tuesday and professed the need to discuss his infamous exit from the royal family on his own terms.
However, he and wife Meghan Markle have been discussing leaving the royal family for years. There was the shocking Oprah interview as well as Markle's cover story with The Cut. Her podcast "Archetypes" shed light on the couple's new life in America. And with last month's Netflix docu-series Harry & Meghan, the world has heard their side of the story loud and clear.
This isn't about accountability for the undeniable racism Markle experienced at the hands of the Brits. It isn't about airing their truth, either. At this point, Harry and Meghan are singing like canaries for relevance and dollar signs. The circus that Spare that ignited is proof of this. The memoir accidentally found its way to Spanish book stores, and leaked revelations both legitimate and fictional (most memorably by Black Twitter) have flooded the internet for the last 48 hours.
The book inexplicably details Harry's forays into cocaine, shrooms and weed. It reveals how he purportedly lost his virginity to a woman who treated him "like a young stallion" and " "spanked [his] ass and sent [him] away." Spare also details how the prince found out his grandmother died from BBC News. Clearly, this is nothing more than salacious (first-person) gossip used as a ploy to sell books. 
Prince Harry also called his older brother William his ""archenemy" and poked fun at his premature balding in Spare. He allegedly claimed that Williams' resemblance to their late mother Diana had faded. The memoir also described that Harry watched love scenes from Markle's show Suits when they first started dating and how it horrified him.
"I'd witnessed [Markle] and a castmate mauling each other in some sort of office or conference room. I didn't need to see such things live," he apparently wrote. But most disturbingly, the book chronicles how Harry claims he killed 25 people in Afghanistan during his time in the military. He strips them of their humanity as he recalls his chilling actions.
"It wasn't a statistic that filled me with pride but nor did it leave me ashamed," he said. "When I found myself plunged in the heat and confusion of combat I didn't think of those 25 as people. They were chess pieces removed from the board. Bad people eliminated before they could kill good people."
Even though Spare addresses the anti-Blackness prevalent in the U.K. and how his marriage to Markle emphasized it, that's not the main point of the book. Perhaps Prince Harry needed an outlet to release frustrations that have built up for 38 years. Maybe he wanted to aggravate his father, stepmother and brother just one last time.
But there is no doubt that he definitely wanted to make money and the more outlandish his memoir, the better it became for his bottom line. However, admitting that can come off as greedy and selfish. So, instead, Prince Harry sticks to the notion that he and his wife are rewriting their narrative.
During an appearance on ABC's "Good Morning America" with Michael Strahan Monday, Harry remarked that he can't "have peace with my family unless the truth is out there." However, the truth has been out there. Harry and Meghan are rehashing it—and adding lewd tidbits—to merely line their pockets: let's finally call a spade a spade.