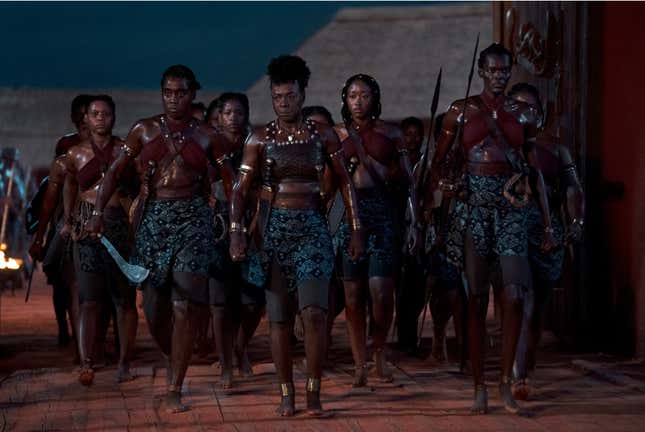 It's no secret that the Gina Prince-Bythewood-directed, Viola Davis-led film, The Woman King, is a powerhouse project with an immensely talented cast and crew in tow. But what's been puzzling for the start of awards season is the fact that this undeniably moving story has been getting paid little attention when it comes to its ensemble and overall storyline. Or, at least, that was the case until the 2023 African-American Film Critics Association (AAFCA) Awards happened. We'll explain.
The 2023 Oscars Features No Shortage Of Controversial Snubs
You see, outside of well-deserved nominations for Davis, the rest of the cast—namely Thuso Mbedu, Lashana Lynch, Sheila Atim, Adrienne Warren, and John Boyega—has gone virtually unnoticed by a myriad of award committees. What's more, is that the film was shut out in the Best Picture category at the Golden Globes, Critics Choice Awards, and the SAG Awards (no noms for Outstanding Performance by a Cast in a Motion Picture, though the film did get nominated for Outstanding Action Performance by a Stunt Ensemble in a Motion Picture).
And while nominations for the BAFTAs and Academy Awards are still forthcoming, the pattern of erasure that's been displayed is both annoying and appalling. We know we don't need validation from predominately white institutions to affirm our excellence, true enough. But it's beyond telling that the only Best Picture Win thus far for the film has come from an association that's dedicated to highlighting film and TV centered around the Black experience and works that are produced, written and/or directed by persons from the African Diaspora (looking at you AAFCA). We shouldn't be the only ones with eyes wide enough to see eminence when it's explicitly present.
The 54th annual NAACP Image Awards has also recognized the film with a Best Picture nomination as well. But because the winners for those awards have yet to be revealed, we've got to give props where they're due and thank AAFCA for recognizing The Woman King with the win it deserves. And while we're on the subject, let's go ahead and recognize other Blackity-black winners from the 2023 AAFCA Awards:
Best Picture: The Woman King
Best Director: Gina Prince-Bythewood (The Woman King)
Best Actor: Jeremy Pope (The Inspection)
Best Actress: Danielle Deadwyler (Till)
Best Supporting Actor: Brian Tyree Henry (Causeway)
Best Supporting Actress: Angela Bassett (Black Panther: Wakanda Forever)
Emerging Face: Jaylin Hall (Till & Bruiser)
Emerging Filmmaker: Carey Williams (Emergency)
Best Independent Feature: Nanny
Best Animated Feature: Wendell & Wild
Best Documentary: Sidney
Best International Feature: Saint Omer
Best Song: "Lift Me Up" (Black Panther: Wakanda Forever)
Best Live Action Short: We Cry Together
Best Animated Short: New Moon
Special Achievement Honorees
Impact Award: Till
Building Change Award, presented by Lowes: Production Designer, Hannah Beachler (Black Panther: Wakanda Forever)
The Beacon Award: Antoine Fuqua and Will Smith (Emancipation)
The Ashley Boone Award: Producer, Nate Moore (Black Panther: Wakanda Forever)