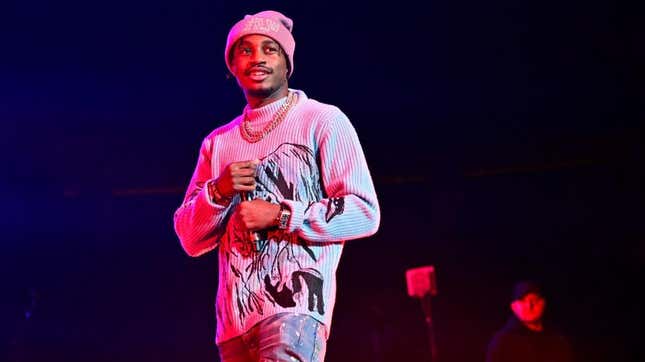 Nearly seven months after being shot in New Jersey during an alleged robbery attempt, rapper Lil Tjay was arrested on Monday while on the set of his upcoming music video with Ice Spice.
Born Tione Jarden Merrit, the 21-year-old rapper was headed to the Bronx music video shoot in a Black Cadillac Escalade along with four other friends when local police pulled them over because of the car's tinted windows and missing license plate.
According to ABC7 New York, four handguns were found inside the Black SUV. All five men in the car, including Tjay, were arrested, taken into custody and charged with criminal possession of a weapon.
A video of the "F.N" rapper being arrested was shared on social media.
Ice Spice, the "Munch" rapper who was set to shoot a video with Lil Tjay, also had an incident with local police but was not arrested, according to the New York Post. But Markus Grisham, a man who was in the car with her, was arrested by the NYPD on Monday and was also charged with criminal possession of a weapon for allegedly having a loaded 9-millimeter gun on him.
The last seven months had been pretty quiet for Lil Tjay. After he was shot in June 2022 in the Edgewater area of New Jersey, he had to undergo emergency surgery, which left many fans worried if he would recover. Thankfully, after less than a month in the hospital, he showed signs of progress and made his return to music with the song, "Beat the Odds," which he recorded while still in the hospital bed.
Ice Spice and Lil Tjay, who are both from the Bronx, were in the process of shooting a music video for the unreleased song, "Gangsta Boo."