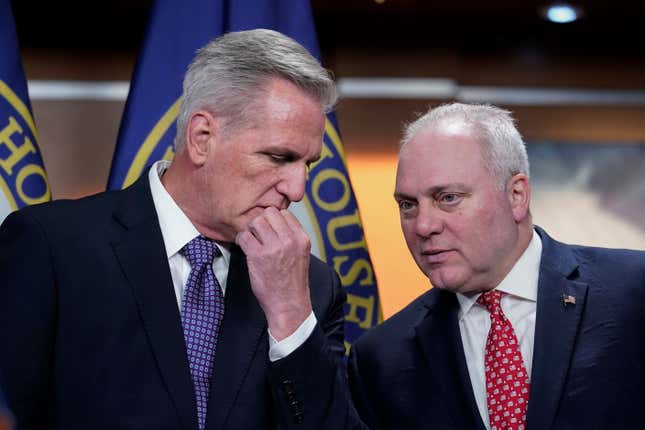 Updated 1/4/2023 at 12:50 p.m. ET  
The Republican party has become synonymous with mess, and this House speaker's election has been no different.
Republicans managed to win control of the House in November, but they can't seem to decide on who should lead it. Republican Representative Kevin McCarthy, is the "obvious choice." He won the nomination in a closed-door session held earlier this year and was endorsed by Donald Trump.
But unfortunately for him, no one is bound to that initial vote and the (extra) right-wing side of his party is not his biggest fan.
The question is: why should you care about what's happening in the Speaker's race? Well, here's six things you might not know about the race, but probably should.
1. We STILL Don't Have A Speaker!
I can't believe I'm writing this three days after the initial vote (which no one has lost in 100 years), but we still don't have a Speaker of the House! Rep. Kevin McCarthy just lost the 13th round of voting, and there is no end in sight.
The Republican-led Congress is off to an objectively terrible start. The new members can't get sworn in, no one can pass laws, and none of this bodes well for the inevitable fight over the debt ceiling later in the year. (Un-fun fact: the economy could crash if Congress doesn't raise the debt ceiling).
In the meantime, we made a list of potential Speakers who, at this point, may have a better shot than Kevin McCarthy. 

2. McCarthy Lost The Initial Vote
On Tuesday, Kevin McCarthy lost the initial floor vote speaker, which is normally more of a formality. Since then, McCarthy has lost the next two rounds of voting. That doesn't mean he's out of the running. Until a new speaker is picked, the House will continue voting. But at this point it is getting a little tedious.
3. No Speaker, No House
First order of business for the new congress is voting on a speaker. However, until there is a winner, Congress can't vote on anything else, which means that until Republicans get their act together, government will be at a standstill.
4. The Math is Currently Not Mathing for McCarthy
Before the vote, five Republicans publicly stated that they will not be voting for him for speaker, which if you look at the math is a big problem for McCarthy.
Republicans currently control 222 seats in the house (a slim majority). If everyone votes, McCarthy needs 218 votes in order to win. That means he can't really afford to lose five votes if everyone votes. (It's a little trickier than that because some people could decline to vote lowering the total he needs).
In the last round of voting McCarthy received 202 votes, which is far below the threshold he needs.
5. He's Got Some Quieter Detractors
Republicans not in that group of five have also been letting slip to reporters that they're on the fence about McCarthy. And based on the math, it's not just the loud mouths like Rep. Matt Gaetz who are rooting against him.
6. No One Has Lost the Initial Floor Vote in 100 Years.
Not to rub the humiliation in McCarthy's face or anything, but losing that initial floor vote is a big deal. No one has lost the initial floor vote in 100 years.
7. Democratic Representative Hakeem Jeffries Made History
The Republican party might be in disarray, but Democrats united behind their pick for House leader, Representative Hakeem Jeffries. On Tuesday, Democrats unanimously voted for Rep. Jeffries as party leader making him the first Black politician to lead either party in Congress.
"House Democrats are ready to continue to build upon the incredible progress that we made on behalf of the American people in the last Congress and continue to advocate and fight for better-paying jobs, lower costs, safer communities, defend democracy, fight for freedom, protect the public interest and ensure economic opportunity in every single corner of America," said Rep. Jeffries on Tuesday in a statement.
8. Republicans Also Nominated a Black Speaker Candidate
Republicans are not any closer to picking a Speaker of the House. But they did decide to throw out a new contender into the race, Rep. Byron Donalds, a Black election-denier from Florida.
Rep. Cori Bush (D-Mo.) was quick to call his nomination a stunt. "FWIW, @ByronDonalds is not a historic candidate for Speaker. He is a prop. Despite being Black, he supports a policy agenda intent on upholding and perpetuating white supremacy," tweeted Bush.
9. So What's Going to Happen?
We're not clairvoyant at The Root, so obviously we don't know exactly what will happen. (Sorry for anyone hoping we had a crystal ball). A likely scenario here is they'll just keep voting until everyone gets tired and lets McCarthy win. They could also try an elect a consensus candidate between Democrats and Republicans, but that's not super likely.
Alternatively we'll all held hostage by Republican's inability to get their act together, which would honestly be a very familiar way to start off the new year.