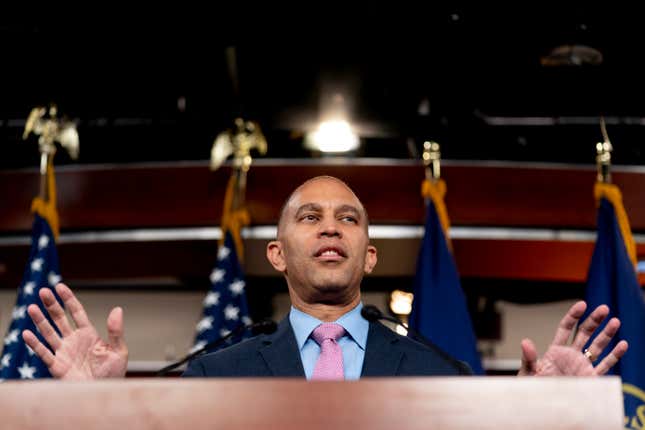 On Tuesday, Hakeem Jeffries was formally announced as the leader of House Democrats. For the last two decades, Nancy Pelosi has been the face for the party. At 52 years of age, Jeffries also embodies a palpable generational shift for House Democrats. As he prepares to take on a Republican majority, here are 5 reasons why Hakeem Jeffries is the sh*t.
The Week C-SPAN Became Must-See TV
1) Hakeem Jeffries is the first Black politician to lead either party in Congress.
Although it may come as a shock, Jeffries is the first Black person to lead either party in the history of Congress. Given the fact that Congress is 233 years old, this is a groundbreaking achievement. At 52 years of age, he is also the first person to lead House Democrats to be born after the end of World War II.
2) He proudly reps Brooklyn, New York.
Since being elected in 2012, Jeffries represents the Eighth Congressional District of New York. That area, which is known for its diversity, includes large sections of Brooklyn as well as a section of Queens (Brownsville, Bedford-Stuyvesant, Canarsie, Coney Island, East New York, Brighton Beach). Jeffries himself is a Brooklyn native and currently resides there with his family.
3) Jeffries worked as a prosecutor to impeach Donald Trump.
Jeffries was chosen by Speaker Nancy Pelosi in January 2020 to be one of seven House Impeachment Managers in the Senate trial of former President Donald Trump. This made him the first Black man to acquire that role. The trial lasted nearly 3 weeks, in which Jeffries insisted that Trump be removed from office since he abused his power. Trump, he said, pressured Ukraine to interfere with the 2020 election. Despite all of the evidence presented, the Senate opted to allow Trump to retain his presidency.
4) He has passionately pushed for criminal justice reform.
Jeffries has been an avid supporter of police reform during his time in Congress. In 2014, he pushed for a national ban on chokeholds after the death of Eric Garner who died while being restrained by police. Jeffries also was involved in the getting the First Step Act passed. He also co-sponsored the George Floyd Justice in Policing Act, but that failed in the Senate.
5) Hakeem Jeffries is on the path to becoming one of the highest-ranking Black politicians this country has ever seen.
Over the last decade, Jeffries' accomplishment speak for themselves. In 2019, becoming the chairman of the Democratic caucus made him the youngest member to serve in leadership. Jeffries, who practiced law before his time in public service, is also the former Whip of the Congressional Black Caucus and previously co-chaired the Democratic Policy and Communications Committee. His role as Impeachment Manager during the Senate trial of Trump and now as the Speaker for House Democrats sets up Jeffries' political ascension to be one for the history books.