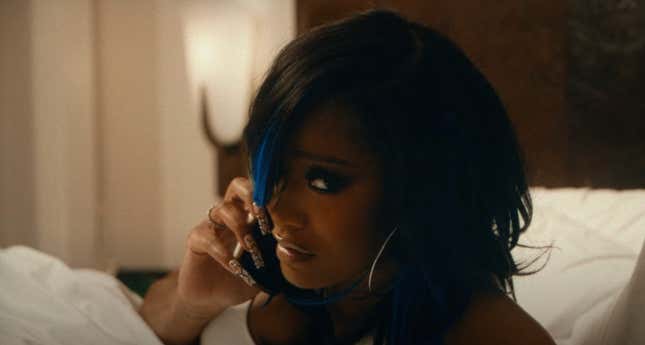 On Wednesday, Usher premiered the music video for his latest single, "Boyfriend" featuring none other than our favorite cousin (in our heads) on our Mama's side: Keke Palmer.
Questlove On Going To School With Boyz II Men & Other Music Greats | Securing the Bag: Part 2
As we previously told you, the video centers around the Nope star getting ready for a night out with her girls in Las Vegas, (at seven o'clock on the dot, mind you) while Usher acts as the man in her head that she's thinking about. This song is clearly a a direct reference to the hubbub Keke's boyfriend, Darius Jackson, caused in July when he decided to publicly criticize his girlfriend's outfit choice when she attended one of Usher's shows during his Las Vegas residency and wounded up getting serenaded.
"It's the outfit tho.. you a mom," Darius wrote in a since-deleted tweet at the time, before he later doubled down in a follow-up tweet (before it was later deleted): "We live in a generation where a man of the family doesn't want the wife & mother to his kids to showcase booty cheeks to please others & he gets told how much of a hater he is. This is my family & my representation. I have standards & morals to what I believe. I rest my case."
But as fate would have it, those words have now come back to bite him in the ass now that both his potential ex-girlfriend (we'll get into that a little later) and the "My Boo" artists took that drama and flipped it right on its head in a fun (and profitable) turn.
Naturally, as the video began circulating, folks online took to Twitter to express their enjoyment over the duo's video:

And as if that last tweet didn't fully encapsulate my personal thoughts about this whole ordeal, Senior Editor Jay Connor also accurately summarized my feelings: "Imagine being Keke's baby daddy and having to lie in the group chat about how your 'You a Mom' rant was all a publicity stunt for this new Usher video. Damn."
Damn, damn, damn, indeed. Word to Florida Evans.
Additionally, remember when I said we'd circle back to the whole "potential ex-girlfriend" comment. Well, the reason why I said that is because apparently, according to People, Darius has allegedly "moved on" from the relationship and instead is focusing on his acting career.
As far as how Darius and Keke will take care of their new son Leo, the source told People: "You don't have to be in the same household to be good parents."
At the end of day, the well-being of their son is the most important thing so that at least is good news. But as I told you yesterday, this music video is the type of petty I like to see, so make sure y'all run up those streams. She is a mother after all.