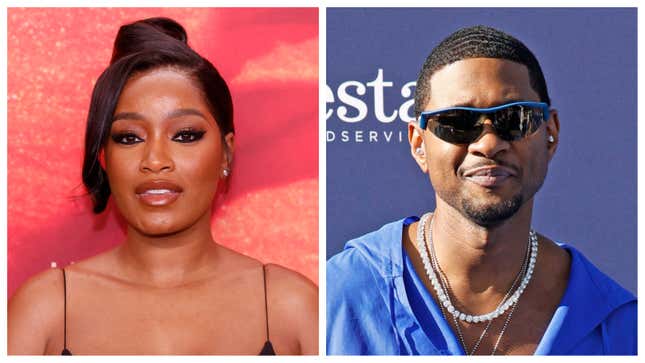 The highly entertaining (and yet somehow highly controversial) friendly love affair between Keke Palmer and Usher has apparently reached new heights.
Questlove On Going To School With Boyz II Men & Other Music Greats | Securing the Bag: Part 2
In a 15-second teaser posted to each other's respective social media pages, the two have teamed up to put out an all-new single, aptly titled "Boyfriend." Slated to drop on Wednesday, the video shows both the "Caught Up" and "Big Boss" singers getting ready for a night out before Usher's velvety-smooth vocals say: "Somebody said that your boyfriend's looking for me. Oh, that's cool."

Of course, the line and the song title is a direct reference to the hubbub Keke's boyfriend, Darius Jackson, caused in July when he decided to publicly criticize his girlfriend's outfit choice when she attended one of Usher's shows during his Las Vegas residency and wounded up getting serenaded.
The now-viral clip (and Jackson's follow-up tweets) kicked off a firestorm of online conversations about sexuality, motherhood, respectability politics, relationship expectations and more. And while Keke herself has yet to publicly respond to all the drama it caused (though, one could definitely surmise that this video and the subsequent selling of "I'm a Mother" shirts are responses in and of themselves), the "Yeah" artist finally gave his two cents on the matter earlier this month.
Describing it as a "pop moment" that was "worth talking about", Usher explained: "I think everybody's vision or a version of what they felt happened there just leads you back to just really having a good time in Las Vegas. And that's what I hope came out of it. Rather, it was a conversation of what was going on with us having fun in front of the audience or conversation about that song."
He continued: "Every night I'm thinking about how the world now is going to react to this moment that I'll have with whoever I'm choosing to sing to. But it was a pop moment, and it was fun to have at least have a conversation going and we just keep it light. I don't see anything negative happening in Las Vegas."
I won't lie to you: This is the type of mess, petty, and overall "getting my lick back"-type of behavior that I like to see. What a way to take something that should've been drama-free in the first place and putting your thang down, flipping and reversing it into something fun. (And profitable.) Here's hoping the fun between the two of them continues to take centerstage and not unnecessary drama from this moment forward.