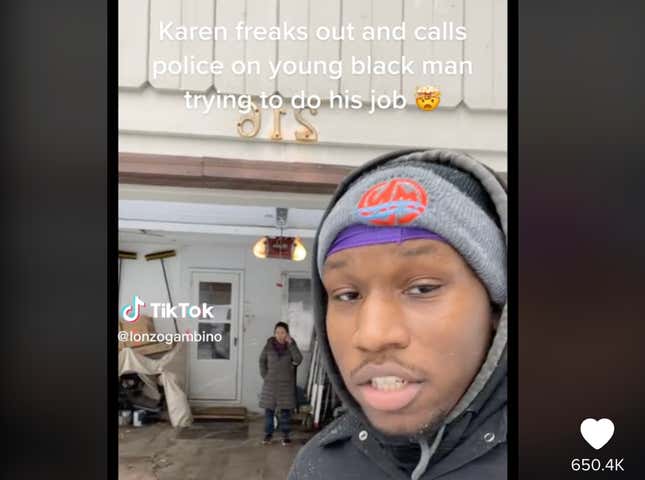 What's Black History Month without acknowledging the biggest pain in the Black community's ass? Karens. In a viral TikTok video, a Black HVAC technician records himself while the woman he was trying to provide service for throws a terrible-two level tantrum in the background on the phone with the police.

Georgia Nurses Thought It Was Smart To Mock Patients on TikTok
Alonzo Harmon recently uploaded the video which was taken back in November catching both evidence and an entertaining site. Harmon told The Daily Beast he'd been called to the Karen's home in Minneapolis to clean her air-ducts but was harassed while trying to do his job. When he entered the home, he said he was greeted with, "They let you do a job like this?"
Harmon said following that moment he was repeatedly asked questions about his qualifications and overall knowledge of doing his job.
"Once I actually started to try to do my job, she was over my back. Basically, [continuously] asking me the same question on how I got the job. What was my interest in the job, do I actually know what I'm doing. Like, do I actually know what I'm doing in the home and stuff like that," he said.
G/O Media may get a commission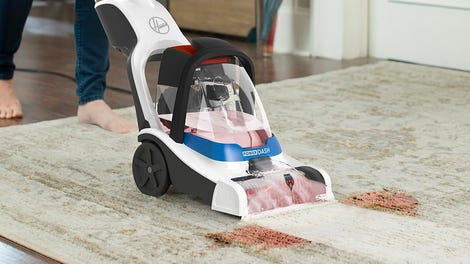 26% Off
Hoover PowerDash Pet Compact Carpet Cleaner
She finally said what she meant to say from the jump which was that she didn't trust him to do the job, though, she didn't admit why. Harmon chose peace and decided not to finish the job. Following that moment is when the Karen chose violence.
Here's a recap of the clip from The Daily Beast:
In the TikTok video, which was taken on Nov. 29, 2022, Harmon turns the camera toward himself and can be seen standing outside a garage in Golden Valley, Minnesota, as it snows. A woman inside the garage appears as if she's talking on the phone.

"He says I'm rude, and he just threatened me right now," the woman says on her call.

Harmon, standing several feet away from the woman, says, "What threat did I make towards you, ma'am?"

The woman, who identified herself as "Elizabeth," ignores Harmon's question. In the next part of the video, the woman cries hysterically as Harmon suggests she's faking her tears.

"Please, please, please! I'm so scared right now!" the woman yells on the call. "I'm shaking right now! Please, please! …I'm so scared!"

Meanwhile, Harmon continues to stand outside the garage, away from the woman. "I've never in my life had to deal with no bullshit like this," he then laughs, walking away from the garage.
The Golden Valley Police Department said the police who responded to this waste of time left without taking any further action, the report says.
For such an exaggerated false alarm, this woman should have been held accountable for calling 911 for basically no reason. Black people can't even do their jobs now without being bothered for being Black.
I would've handed her a duster and told her figure it out.