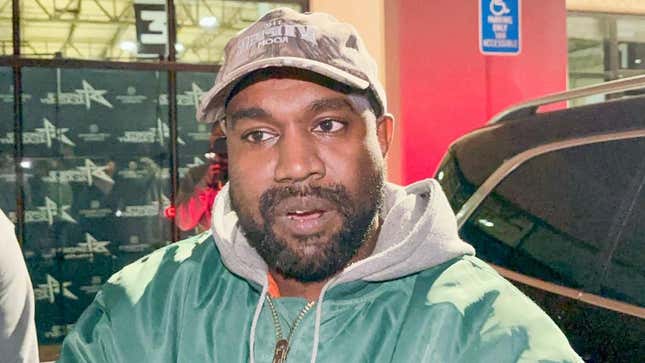 Kanye West's hateful, bigoted and ignorant speech took over in 2022. Thankfully, in 2023 Kanye West has been quiet. Unfortunately, his words still linger in the minds of hateful individuals who share his disgusting sentiments.
Grammys 2022: 10 Black Artists Who've Won Album of the Year
A report from the Anti-Defamation League (ADL) has connected more than two dozen incidents that directly referenced Kanye's antisemitic comments made in the last year.
This not only emphasizes the fact that Kanye is a hateful and ignorant individual, but that his far-reaching influence can affect the minds of everyone from young teenagers to grown adults. His words can lead to real-world consequences that can affect and hurt other people's way of life.
The incidents include targeted harassment, campus propaganda, vandalism and banner drops.
Increase in antisemitic language on social media
Following Kanye's countless antisemitic statements, the phrase "Ye Is Right" trended on social media in racist and antisemitic accounts. Users would use the phrase to point out a particular quote or way of thinking that Kanye voiced, often referencing a disgusting Jewish comment the Chicago rapper made.
The start of Kanye's antisemitic rants began in October, which occurred shortly before Elon Musk took over and ruined Twitter. The ADL Musk's takeover of the social media platform unsurprisingly saw an increase in racist and antisemitic language.
Per the report, since October, there have been more than 10,000 Twitter mentions referencing the "Ye is Right" slogan, and they have reached at least six million users and have gotten more than 22,000 likes and 5,000 retweets.
"Ye is right" events from white supremacist groups
The ADL tracked not only how many times the phrase was used on social media, but how often it was used in the real world by white supremacist groups.
One of the incidents included a series of "Ye is right, change my mind" events led by "Groypers," which refers to the name of a far-right group who are supporters of noted bigot and podcaster Nick Fuentes.
According to the report, these events started just last month and have been held at a series of universities across the country including Florida State University, University of Alabama, the University of Florida, the University of Central Florida and Florida International University. The extremist group would use these "events" to spread speech that denies that the Holocaust ever happened and praise Hitler's actions, all while citing statements from Kanye West.
Harassment and vandalism
These are the two "big" incidents that have been connected to West's comments. The other 28 have been felt through harassment and vandalism incidents at college campuses, K-12 schools, public areas and Jewish institutions, per the report. They occurred in damn-near half the states in the country including, Wisconsin, California, Florida, New York, Massachusetts, Illinois, North Carolina, Texas, Virginia, Michigan, Connecticut and many more.
One of the incidents included someone calling a Jewish-owned restaurant and asking for "the Kanye special" and then saying, "Death to all the Jews" before hanging up.
It's unfortunate that such a talented artist has fallen this far and likely will never take responsibility or apologize for the real-world harm his words have caused.