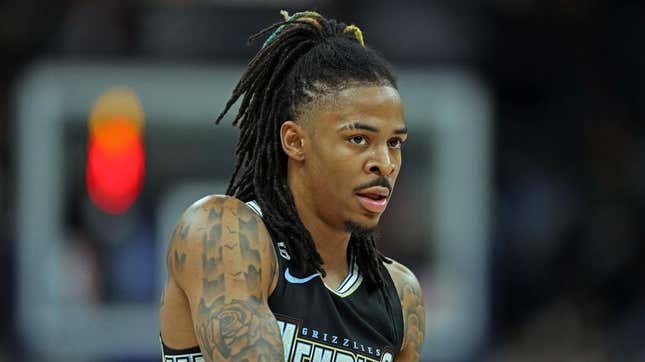 Updated 03/9/2023 at 9:51 a.m. ET

For the past week, Ja Morant has been the topic of every conversation concerning the state of the NBA today—and for good reason.
Morant, who is a superstar guard for the Memphis Grizzlies, was seen on his Instagram live last week brandishing a gun while at a Denver area nightclub. As a result, the Grizzlies have essentially suspended him indefinitely.
Thankfully, the two-time NBA all-star will not face any criminal charges as a result of his IG live video last week. But, he will continue to be away from the Grizzlies for at least four more games, according to a statement released by the Grizzlies on Wednesday. This means the earliest he could possibly return to the court is March 17 against the San Antonio Spurs on their home floor.
In a press release, Glendale, Colo. police said, "Through investigation, the GPD was able to determine the incident took place at Shotgun Willies, located in the City of Glendale, during the club's lawful operating hours."
It continued, "GPD was not able to determine that probable cause existed for the filing of any charges."
The location of where the IG live video was taken is important because if the gun was brandished on team premises, such as a team plane, it would have been an automatic 50-game suspension for the superstar guard.
The Conversation Surrounding Ja Morant
There have been a plethora of conversations surrounding Morant and his lifestyle. Some have questioned if Morant even grew up in the "hood" and wondered why he wants to be around a lifestyle he was never exposed to.
Others, such as infamous sports commentator Skip Bayless, have dangerously insinuated that Morant wants to be associated with the Crips street gang.
Former NBA player Paul Pierce has defended Morant, writing in a tweet, "When u black and rich u a target period."
Former NFL wide receiver Plaxico Burress, who accidentally shot himself in 2008 at a nightclub, advised Morant to learn from his own mistakes, saying, "Make better decisions because you really don't want for him to have that label being that he's so young."
All of these conversations I think are important and necessary. But the one thing I think people are missing is how detrimental this incident can truly be for Morant. Not just because he's a professional athlete who has to provide for his family, but someone who has the chance to be the face of an entire professional sports league.
Ja Morant has a chance to be the face of the NBA 
Ja Morant is not just a good NBA player, he's one of the most exciting and electrifying athletes in all of professional sports. He's part of the reason people watch sports so much, to see something we have never seen before.
He has the unique opportunity to legitimately be the face of the NBA, something few professional athletes—let alone normal people—have a chance in hell at.
Every year, athletes make dumb decisions that could ruin the future of their careers, but rarely are any of them as good or popular as Ja Morant. Don't believe me? Just look at the numbers.
During the 2021-2022 season, the NBA tracked that Morant videos generated the most impressions on social media. More than LeBron James, Stephen Curry or any other player you think might be more popular. Not only did he have the most views, but he also blew the competition out of the water.
This not only indicates that Morant has more insane highlights than any other player in the league, but people genuinely care about them so much that they'll rewatch it multiple times.
With Kyrie Irving out of the picture, Morant is one of five athletes with a signature sneaker at Nike, the others are LeBron James, Kevin Durant, Giannis Antetokounmpo and Paul George. Morant is by far the youngest on the team, which speaks to how valuable Nike sees Morant.
Morant's actions won't just mess up his bag, they could potentially mess up his legacy as a generational player in the league. Throughout NBA history, only a few have legitimately held the crown for "Face of the league."
To me, there's only been seven: Bill Russell, Kareem Abdul-Jabbar, Magic Johnson, Larry Bird, Michael Jordan, Kobe Bryant and LeBron James. In the association's 76-year history that's it. With LeBron nearing the end of his career, the claim for who is next is up in the air and Morant genuinely has a chance to snatch it.
Hopefully, Morant bounces back from his latest mistake and takes the crown that could possibly become his if he continues to just do what he does on the basketball court.