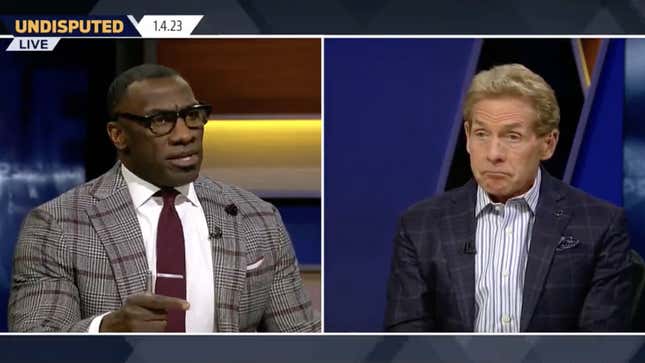 Undisputed is one of the most popular sports talk shows on television. Fans love watching longtime journalist Skip Bayless and NFL Hall of Famer Shannon Sharpe go back and forth debating everything from whether or not LeBron James is really the GOAT of basketball, to who is going to win the Super Bowl.

American Ninja Warrior: Season 15 Is Our TV Pick of The Week
It's not necessarily my cup of tea but, I do acknowledge, it can be entertaining at times.
On Wednesday, as soon as the show began, it took a turn and led to a heated exchange between Bayless and Sharpe. But, before we take a look at what occurred, let's revisit what led to this tense confrontation.
As every sports fan in America was watching the Buffalo Bills and the Cincinnati Bengals square off on Monday Night Football, they saw second-year Bills Safety Damar Hamlin collapse on the field of play after making a routine tackle on Bengals wide receiver Tee Higgins.
Everyone watching the game was shocked as this particular incident was unlike anything anyone had ever seen in their lifetime on a football field. The reactions started to pour in on social media—with one from Bayless in particular catching the attention and ire of those who read it.
In a tweet, Bayless wrote, "No doubt the NFL is considering postponing the rest of this game - but how? This late in the season, a game of this magnitude is crucial to the regular-season outcome ... which suddenly seems so irrelevant."
On Tuesday's show of Undisputed, Bayless appeared on the show alone, without Sharpe, to address the controversial tweet that got so many people (rightly) angry.
On Wednesday, in his return to the Undisputed, Sharpe opened the show explaining why what happened to Hamlin on Monday hit close to home for him. He recalled seeing his brother, former NFL wide receiver Sterling Sharpe, temporarily paralyzed during a game that ended his career.
Sharpe then addressed Skip's infamous tweet, saying that he disagreed with it and hoping that he would take it down, which led to the long-time journalist inappropriately interrupting Sharpe and arguing about the incident, which then got more heated than viewers may have expected.
Instead of being empathetic and apologetic about the tweet, which was insensitive and took away from the focus of the night, which should've been on Hamlin's health, Skip has done nothing but deflect and defend his tweet and make an already sensitive and difficult issue even more frustrating to deal with.
This isn't the first time the two have called each other out while on air. In December, Bayless took a shot at Sharpe claiming that Tom Brady is "way better than you were," which led to a tense screaming match between the two.
Many on social media have noticed the uptick in the tension between the two and have pointed out that Skip and Undisputed's days are numbered.