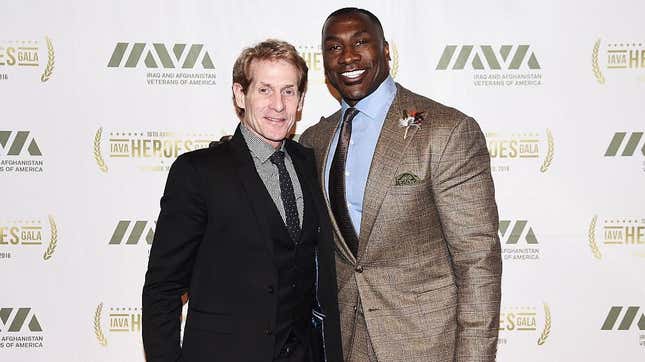 Who's the most annoying sports television personality in the United States today? Stephen A. Smith? Joe Buck? Jason Garrett? No.
Small Town Horror Story: Juneteenth & The Aftermath of Slavery
They don't even come close to the anointing personality that is Skip Bayless, who's been tormenting athletes and sports fans for 50 years as a sports journalist and TV personality, and the latest evidence was displayed on Monday's episode of Skip and Shannon: Undisputed.
To no surprise, Skip and his co-host, Shannon Sharpe, had a heated debate on Tom Brady's performance over the weekend when his Tampa Bay Buccaneers faced the San Francisco 49ers. As expected, Skip defended Brady for his performance in the Buccaneer's blowout loss and Shannon was highly critical.
For context, the Buccaneers lost to the 49ers 35-7 in what can only be described as an ass-kicking. In the game, Brady threw two interceptions and had a passer rating of 63.7. Not a good game from the GOAT.
Shannon argued that Brady deserved 100% of the blame for the loss since Skip often gives him 100% of the credit when they win. Skip argued that there were a multitude of reasons why the Bucs lost on Sunday.
Nothing is wrong with arguing but this got personal and loud. If you want to hear the whole screaming match, just check out this video.
Eventually, the debate got to a point where Skip claimed that Shannon is jealous because Brady is still playing at a "high level" at the age of 45, while Shannon retired from the sport at 35. Skip even went as far as saying, "He's way better than you were!"
That's the precise moment when the line was crossed. Don't get me wrong, I'm all for television personalities screaming and yelling at each other, it gets ratings. But taking personal shots at your colleague to defend a QB that hasn't even been on your show? Lame as hell.
To be clear, Brady is one of the greatest football players ever, but so was Shannon Sharpe. In his 14-year NFL career, Shannon was named to the Pro Bowl eight times, first-team All-Pro four times and won the Super Bowl three times. He was inducted into the NFL Hall of Fame in 2011 and is unequivocally one of the greatest tight ends of all time.
Nobody in their right mind should be disrespecting Shannon's football career, especially a man who infamously averaged 1.4 points as a junior on a high school junior varsity basketball team. If you want to criticize him for his opinions on HBCUs, go right ahead, but nobody should question his sports accolades.
Shannon did not deserve that level of disrespect from Skip and he's lucky Shannon didn't jump over the table and beat his ass for the disrespect uttered out of his mouth. Obviously, there would've been some criticism aimed at Shannon, but you wouldn't hear it coming from me.