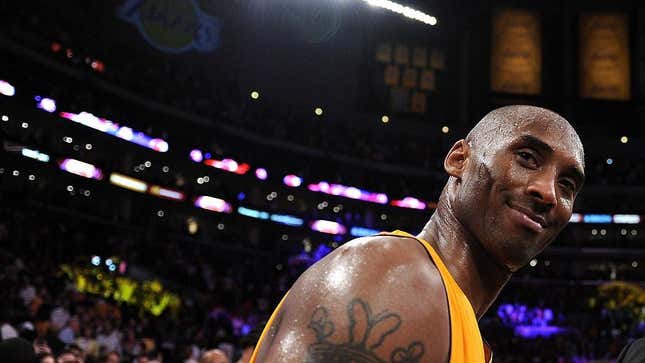 Nowadays, if you walk up to a basketball fan and ask them how they feel about Kobe Bryant, many of them will say, "Black Mamba," "The Greatest," or "GOAT." All respectable and appropriate descriptions of one of the best basketball players of all time, but not exactly what comes to mind when I think of him.
Growing up, I had a complicated history with the Los Angeles Lakers shooting guard. Like many, I respected his incredible skill on the court but found myself rooting against him most of the time during his career. I cheered when he lost to the Celtics during the 2008 NBA Finals. I laughed when they got swept in the 2011 playoffs. I giggled when a young OKC Thunder team outplayed the Lakers in the 2012 playoffs. I snickered as they missed the 2014 playoffs entirely.
I was what you call a "Kobe hater." I thought the comparisons to Michael Jordan were unwarranted, the "GOAT" claims were unnecessary, and the "Mamba Mentality" was corny.
But something changed during Kobe's final season in 2016. I found myself loving his postgame press conferences. I loved his openness and willingness to speak about the time he'll spend with his family post his playing career. I enjoyed reading the stories about fans following him to every game during his final season in the NBA. I even rooted for him as he scored 60 points in the final game of his career. The mask that was the "Black Mamba" persona was starting to come off. I started to see more of Kobe the man, and less of Kobe the player. Those feelings of hatred turned into feelings of appreciation.
Every time I saw Kobe on TV, I caught myself smiling. During his jersey retirement, I was cheering. During his acceptance speech at the 2018 Academy Awards, I was clapping. As I watched him celebrate the Philadelphia Eagles' improbable Super Bowl LII win, I laughed. I found myself loving every clip of him interacting being a normal human and not a superstar basketball player.
Slowly but surely, my label as a Kobe Bryant hater was starting to peel off. I started to care less and less about his legacy as a player and more about his legacy as a man. His message about the Mamba Mentality did not just have to be applied to a professional athlete, but to anybody who wants to be the best version of themselves," in any area or profession. He began to openly discuss how the sexual assault allegations leveled against him in 2003 changed him as a person. Kobe was maturing as a person in front of our eyes and from a distance, I revered him.
I write all this to say that although I'll miss Kobe because he was a spectacle on the court, I'll miss him even more because of the man he became once he walked off of it.