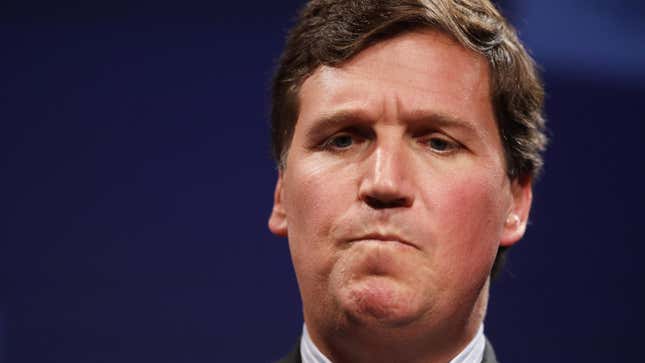 As the news of Tucker Carlson's departure from Fox News continues to settle, some have said the controversial host didn't actually believe the hateful rhetoric he spewed for the last 7 years. As part of the defamation lawsuit from Dominion Voting Systems against the network, Carlson's text messages were leaked to the public and proved the extent of his hypocrisy.
Tucker Carlson Might Be Gone But Fox News Remains a Cesspool of Hate
In them, he disparaged then-President Donald Trump, Trump's legal team and his fellow Fox hosts. "Sidney Powell is lying," Carlson said about Trump's attorney to a Fox News producer in a 2020 exchange. He texted Powell the next day. "You keep telling our viewers that millions of votes were changed by the software. I hope you will prove that very soon," Carlson stated.
"You've convinced them that Trump will win. If you don't have conclusive evidence of fraud at that scale, it's a cruel and reckless thing to keep saying." After Biden won the 2020 presidential election, Carlson told a couple of his peers: "Do the executives understand how much trust and credibility we've lost with our audience? We're playing with fire, for real."
A 2022 investigation by The New York Times told the story of Carlson's rise to fame and how he used white supremacy to get it:
"Almost from the beginning of his career, he has been marching away from the puckish libertarianism of his young adulthood. Increasingly sympathetic to the nativist currents raging through American politics after the Sept. 11 attacks, and twice cast from the heights of cable news stardom, Mr. Carlson ultimately turned on the old conservative intelligentsia, his hometown and many of his friends. His fall and rise trace the transformation of American conservatism itself. When Mr. Trump ran for president and won, thrusting anti-immigration fervor to the heart of American politics, Mr. Carlson finally found his moment. At Fox, he found his platform."

Regardless if he believes in the hateful ideas he regularly promoted, the damage from the lies Carlson caused the same amount of damage. The bottom line is that Carlson cashed in on racism and xenophobia, knowing that it would hurt this country's most marginalized populations. He falsely blamed George Floyd's violent death on a fentanyl overdose, stood up for the bigots who participated in the Jan. 6 attack on the U.S. Capitol ("There's no evidence that white supremacists were responsible for what happened on Jan. That's a lie") and spread a slew of Covid vaccine misinformation.
There is no justification for Carlson's behavior and unfortunately, it took Fox to be hit deeply in the pockets for him to finally lose his platform. Even though the infamous personality was one of the most popular hosts of the network—and one of their highest earners—Carlson is merely part of a very dangerous problem. The Dominion settlement may set the precedence for Fox to change how they maneuver and the narratives they spin. But Carlson shouldn't be praised for not believing the despicable lies he's told for years. In lieu of the damage done to vulnerable communities, it should be the exact opposite.