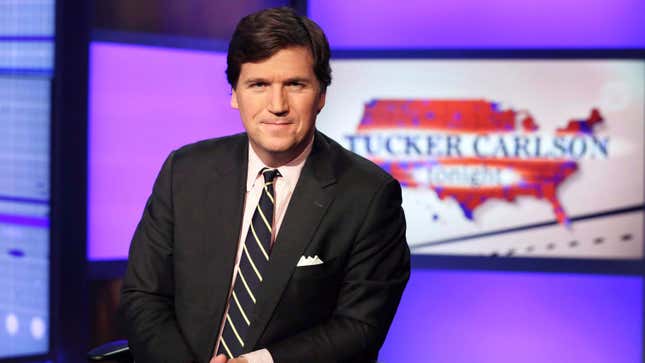 Fox News posterboy and renowned white supremacist Tucker Carlson has finally been booted from the network. In an explosive statement released from Fox on Monday, it was revealed that Tucker Carlson Tonight was finished. It was one of their highest rated television shows. The statement also said that Carlson's final show was Friday, April 21.
Tucker Carlson Might Be Gone But Fox News Remains a Cesspool of Hate
"We thank him for his service to the network as a host and prior to that as a contributor," the press release explained. This news comes only one week after the network settled a historic defamation lawsuit with Dominion Voting Systems for $787.5 million over the role they played in spreading 2020 election voter fraud lies.
Carlson rose to prominence on Fox after replacing Bill O'Reilly in the prime-time lineup back in 2016. His coverage was often deemed controversial but it was incendiary, hateful and downright racist. From calling Black Lives Matter a terrorist organization that endangers white people to peddling white replacement theory, Carlson spoon-fed the bigots that comprised his audience the exact kind of ignorance that left them wanting more.
In regards to the Dominion lawsuit, only one of the 20 reportedly defamatory Fox broadcasts came from Carlson's show. However, CNN reported that Carlson was set to be one of Dominion's first witnesses to testify at trial. In addition, his private texts which became public as part of the suit and caused even more problems for Fox.
In a group chat, Carlson and fellow Fox co-stars Sean Hannity and Laura Ingraham openly discussed the 2020 election right around the time it was happening. The messages disclosed that Carlson told the people close to him that he "passionately" hated former President Donald Trump and that his time in the White House was a "disaster."
It's unfortunate that it took Carlson so long to leave Fox, but de-platforming one of the most despicable and dangerous men in America is something to celebrate so to that we say: Good riddance and don't let the door hit you on the way out.