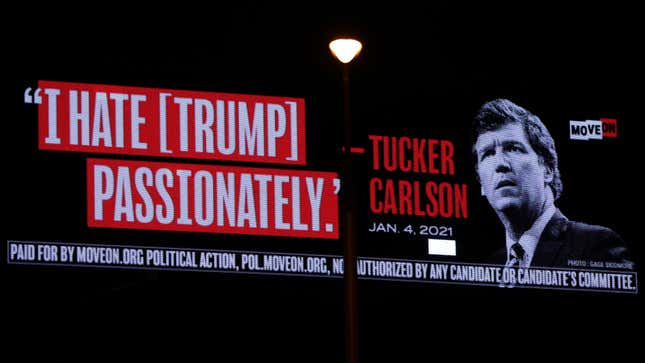 Tucker Carlson's stunning departure from Fox—which was announced in a short press release from the network Monday—has folks speculating on exactly what the final straw was. The Dominion Voting Systems defamation lawsuit against Fox was settled last week for a record-breaking $787.5 million, which led many to believe was the catalyst for Carlson's sudden exit.
Tucker Carlson Might Be Gone But Fox News Remains a Cesspool of Hate
Former Fox host and trash human being Bill O' Reilly insisted that this wasn't what Fox wanted. "Fox News did not want to remove Tucker Carlson...he was the second highest-rated program on the network," he explained. "But there are lawsuits coming on the wake of Dominion. They lost $800 million plus, now you have Smartmatic coming up." O'Reilly continued:
"And you have two individual lawsuits coming up, actually one filed and one that may be filed and that was the key. So one of Tucker Carlson's producers apparently taped a bunch of stuff. Her lawyers went into the Fox attorneys and said 'unless you pay so and so some money, we're going to sue you' and Fox said they're not paying so they filed suit in New York City. And they have those tapes and those tapes may be released to the public—and they're not good tapes for the Carlson program."
O'Reilly then explained how a 60 Minutes appearance from Ray Epps, who was a January 6 protestor, spelled out more trouble for Carlson. The interview aired Sunday. Epps told "60 Minutes" that Carlson was "going to any means possible to destroy my life." "He's obsessed with me," he added.
Epps has been at the center of a theory that he worked for the FBI and helped start the Capitol riot on January 6, 2021. Though this claim has no proof to back it up, it was promoted by Carlson, Trump and Rep. Marjorie Taylor Greene. O' Reilly said that this was setting up Fox for another tentative lawsuit and letting Carlson go was the only solution.
In addition to promoting election fraud lies, Carlson also spewed white nationalist rhetoric and also doubted the legitimacy of Covid vaccines. It appears as if though repeatedly lying on a news show is grounds for termination—who knew?