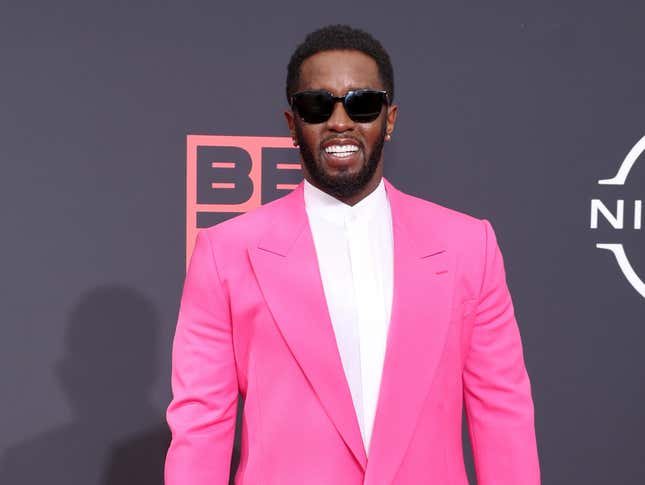 This story is part of our new Hip-Hop: '73 Till Infinity series, a celebration of the genre's 50th anniversary.

Comedian London Hughes Talks New Book, Parents Watching Her Very Sexual Comedy, & Beyoncé
Updated 9/1/2023 at 11:09 a.m. ET
We may have questions about The Weeknd's TV future, but it looks like his music career is still on steady ground. The "Blinding Lights" singer is one of the many stars slated to appear on Diddy's upcoming album, The Love Album: Off the Grid. On Wednesday, the prolific producer released an Instagram video featuring a teaser of the Canadian superstar's vocals on "Another One of Me."
"IT'S OFFICIAL @THEWEEKND'S LAST COLLAB OF HIS CAREER WILL BE ON….THE LOVE ALBUM : OFF THE GRID! "ANOTHER ONE OF ME." SEPTEMBER 15TH WELCOME TO THE LOVE ERA," Diddy wrote in the caption.
During a recent stop on his tour, The Weeknd debuted his verse of the song and announced that it would be his last feature ever. Back in May, the "Take my Breath" artist revealed that he's ready to retire his famous stage name. He hasn't announced if he'll record under his real name, Abel Tesfaye, or come up with something new, or even if he's done being The Weeknd forever.
If there's anything Diddy a.k.a. Puff Daddy a.k.a. Puffy a.k.a. P. Diddy a.k.a. Sean Combs understands, it's the importance of a name.
The Bad Boy founder also released the tracklist and features for the album. According to Billboard, The Weeknd will be joined by Summer Walker; Jasmine Sullivan; Busta Rhymes; 21 Savage; Mary J. Blige; Babyface; John Legend; and H.E.R.
The Love Album: Off the Grid is scheduled for release on Sept. 15.
See original story below:
Diddy is ready to make his musical comeback and in typical Puff Daddy fashion, he's doing it a big way. The rapper/producer announced his new album—titled The Love Album: Off the Grid—with a star-studded trailer featuring appearances from DJ Khaled, The Weeknd and Mary J. Blige. It's set for release Sept. 15. It'll be his first solo release since 2006's Press Play.
"Why am I doing this? You know what I'm saying? Especially with the success that I've had. Especially where my life is," he says in the video. "How stressful and treacherous this music industry is, why would I just come back in here and have to do something that I don't have to do?"
The video features him working with various artists on new tracks, living his extravagant life and getting nuggets of advice from Khaled. There's also a moment where the "Last Night" artist needs to go "off the grid" to focus and get himself "locked in." To get in the right mindset, he takes a yacht to a private island where he relaxes and centers himself. I don't know about you, but whenever I start a new project, I hop on a fancy yacht to a private island to get myself centered and focused.
"I had to go off the grid in order to really lock in 'cause I was so addicted to my phone, so addicted to the work, so addicted to the bullshit," he says.
In recent months, the Bad Boy founder has been really pushing his "Love" brand. He announced an R&B music label called Love Records and in an interview with Ellen DeGeneres said he legally changed his middle name to Love. Say what you will about Diddy, but he knows how to market his products.
Here's the real question: Is there a place for Diddy in the current hip-hop/R&B landscape? There's no question about his influence on the music and culture, but can he still put his finger on the pulse of what audiences want? The hard truth is that over the last year, every time we've seen him performing on an awards show or music festival, his new music feels out of place. He's certainly tried to make it pop on social media, but it's clearly not clicking with fans.
With Hip-Hop 50 putting the focus on OG artists, perhaps this is a time for Diddy to remind everyone why he became the hitmaker of the '90s/early 2000s. A greatest hits album with a few new tracks could be the smarter way to go. This hip-hop nostalgia moment would be a great time for him to bring a star-studded Vegas residency to fans. Honestly, that would give him a much bigger bump to debut new music.
Look, at a certain point, every legacy act has to deal with the fact that fans only want to hear the hits. It feels like Diddy has hit that moment in his career.