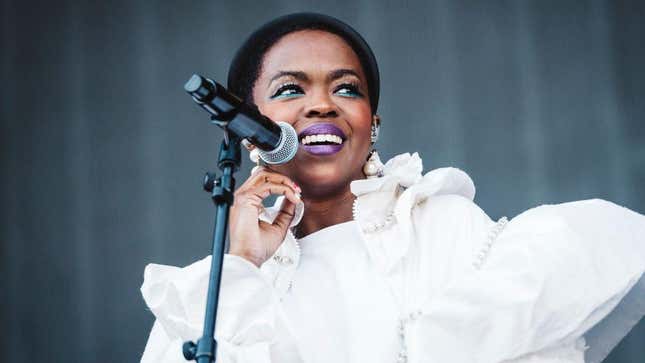 Despite what some young music lovers may say, hip-hop's Golden Era is still in full effect.
My Hip-Hop Story: Lauryn Hill Made Leslie Odom Jr. Fall In Love Melodic Hip Hop
Although the genre is celebrating its 50th anniversary, we are living in a time when hip-hop is not quite as popular as it may have been in years past. Don't get it twisted, artists such as Drake, Kendrick Lamar, Travis Scott, and many others are still enjoying immense success when it comes to album streams, unit sales, and tour revenue. But the overall genre is not living up to expectations.
Up until July, when Lil Uzi Vert released their third studio album, not one rap album had reached No. 1 on the Billboard 200 in 2023. The last time it took that long for a rap album to hit the top of the charts was three decades ago, when Cypress Hill released their sophomore studio album, Black Sunday.
This year alone, many young and hot artists including Lil Baby, Lil Durk, and Moneybagg Yo have had to cancel dates for their nationwide tours due to ticket sales being low in certain cities.
But in the same breath, many of the "OG" artists that aren't considered nearly as "relevant" or "popping" are enjoying immense success when it comes to their tours, and one of hip-hop's legends is taking notice.

He's not wrong. LL COOL J is headlining his first tour in 30 years with The Roots, DJ Jazzy Jeff, and DJ Z-Trip. 50 Cent is doing his "Final Lap" tour. Wu-Tang Clan and Nas are preparing for a nationwide tour that is set to start in September. Snoop Dogg is currently on tour with Wiz Khalifa, Too $hort, Warren G, and many others for their "High School Reunion" tour.
Except Nas, many of these artists are not actively putting out music, and they still have the respect and popularity to sell out arenas across the country, something even the hottest rappers in the game can't do.
Lauryn Hill proves that old-school hip-hop is alive and well
The latest person to join that group of veteran MCs who are keeping the "golden era" of hip-hop alive is Lauryn Hill, who just announced the dates for the "Miseducation of Lauryn Hill" 25th-anniversary tour.
Although she has only released one solo studio album, its impact was so great and immense that she's still able to rally all of the hip-hop community to go see her for a nationwide tour, and for good reason.
It's an album that was able to beautifully combine the most intimate and loveable parts of hip-hop and R&B into a flawless masterpiece. It expressed the feelings of a young Black woman who was coming into her own and the struggles she went through to achieve success.
To this day, it lives on as an extremely influential and delightful listen that has young and old music fans alike wondering why she never released another studio album after its release 25 years ago. Were the expectations too high? Was there a lack of inspiration?
Whatever the reason isn't stopped fans from listening to the album like it came out yesterday, including myself.
Yes, her relationship with the hip-hop community has not always been smooth, but the impact of one album has gained her the respect of the entire music world and rallied them to see this generational artist perform on a tour that only has 17 dates.
It just goes to show, real music will never die. Whether it was released in 2023 or 1993, the real always lives on.