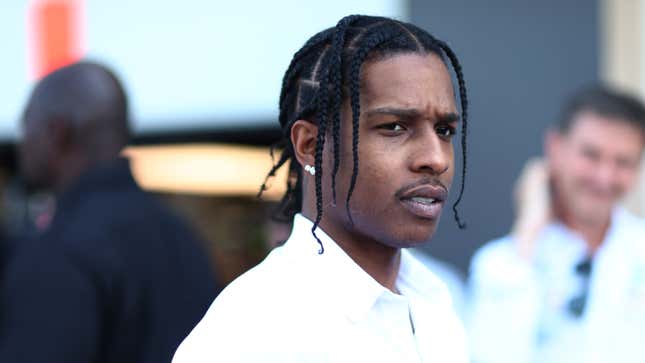 At a time where rapper A$AP Rocky should be mostly focusing on his new bundle of joy—son Riot, of whom he shares with Rihanna alongside their first-born son RZA—it looks like the "Fashion Killa" artist may have yet another legal battle to contend with.
Per legal documents obtained by TMZ on Tuesday, Rocky is now facing a new defamation lawsuit, brought against him by former A$AP Mob member, A$AP Relli. As previously reported by The Root, Relli accused Rocky of shooting him back in 2021. The "L$D" rapper currently faces two counts of assault with a semiautomatic firearm with allegations of personally using a firearm. He has pled not guilty.
Now, in the new suit which names both Rocky and his lawyer Joe Tacopina, Relli is alleging that the lawyer "went on a press campaign" after the alleged shooting back in 2021 and defamed his name while doing so. Relli also claims that Tacopina made him out to look like "a liar, a money grabber, and an extortionist" at the direction of Rocky and that their actions have caused him to receive death threats and be ridiculed. He's seeking unspecified damages.
Speaking to TMZ about the new suit, Tacopina said:
"This is actually nothing more than a publicity stunt which is going to backfire badly. I more than welcome this lawsuit especially because the resolution of the criminal case has not happened yet. This opens up this extortionist to depositions under oath now before the resolution of the criminal case.

It will expose the fraud he committed and unfortunately for his lawyers, it will cause them to be responsible for legal fees in this case. They don't know the facts of this case or the actions taken by their client. But, I will be more than happy to educate them.
There's still no word yet on when Rocky will head back to court for the assault charges. If convicted he faces up to 9 years in prison.