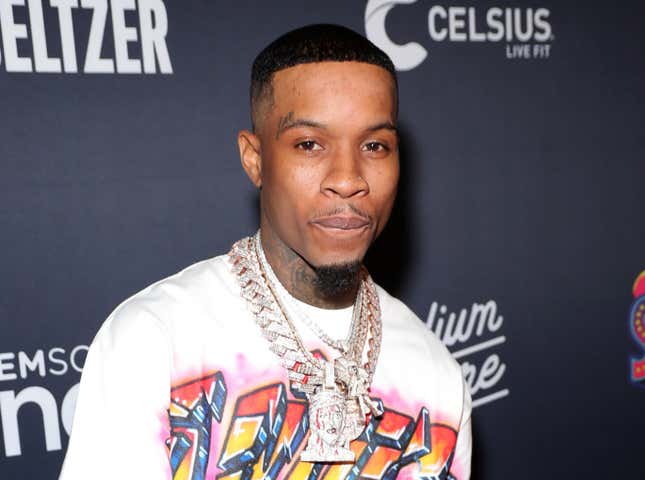 In the never-ending saga of Tory Lanez's trial for shooting Megan Thee Stallion, we've been thrown yet another curve ball. Yes, we expected the rapper to file an appeal of his 10-year sentence, but his lawyers have also filed a motion for him to receive bail while his appeal is being considered. Legal affairs journalist Meghann Cuniff, who has followed the case since the beginning, tweeted that Lanez's lawyers filed a "bail on appeal" motion on Monday.

"Ask and ye shall receive: Tory Lanez's lawyers appear to have filed a motion to bail him out of jail as he appeals his judgment and sentence for shooting Megan Thee Stallion," Cuniff wrote on Twitter on Tuesday.
The hearing is scheduled to be presided over by Judge David Herriford, who also presided over the trial and sentencing. Cuniff went on to add that the "bail on appeal" hearing is currently scheduled for Tuesday, Sept. 5.
"Regarding actual motion, DA's office says they weren't aware anything was filed and haven't received anything yet, but '132 has been dark' which refers to Judge Herriford's dept # and means he's been out," Cuniff wrote. "But public docket entry is yesterday, hearing is scheduled for Tuesday."
As previously reported by The Root, Lanez, legal name Daystar Peterson, was sentenced to 10 years in prison for shooting Megan Thee Stallion, with Judge Herriford telling the defendant, "Sometimes good people do bad things. Actions have consequences, and there are no winners in this case."
For her part, Megan has tried to move on since the sentencing. While performing at the Outside Lands Music Festival in San Francisco, Calif. on Aug. 13, the "Savage" rapper told the crowd, "I just wanna say fuck all my haters! None of that shit you was doing or saying broke me. None of that shit y'all been doing or saying to the Hotties broke them."
Tory has every legal right to pursue an appeal and possible bail. However, since the moment news broke about the shooting he has failed to take any responsibility for his actions and has never offered a sincere apology to Megan. At some point, these legal loopholes and maneuvers have to end and he has to be held accountable for the pain and trauma he caused his victim.