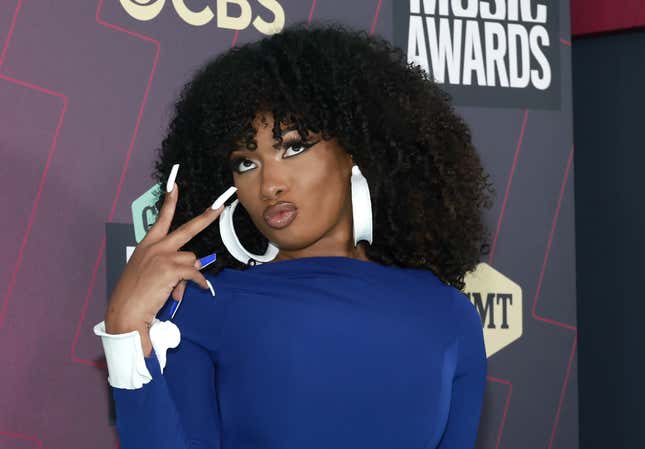 If you thought Megan Thee Stallion was somewhere curled up in a ball and hiding from the world, you really don't know what it means to be a Hottie. On Sunday, the "Sweetest Pie" artist brought full Hot Girl energy to her set at the Outside Lands Music Festival in San Francisco, Calif. In her first major appearance since Tory Lanez was sentenced to 10 years in prison for shooting her, Meg had a very clear message for her critics.
Will The Real Black Journalists Please Stand Up
"I just wanna say fuck all my haters!," she said. "None of that shit you was doing or saying broke me. None of that shit y'all been doing or saying to the Hotties broke them."
With her signature fire engine red locks on full display, the "WAP" rapper wore a hot pink, curve-hugging bodysuit with diamond and pearl accents. She danced and twerked across the stage, delivering many of her biggest hits including "NDA," "Plan B," "Drop That" and "Body." Honestly, we're just happy to see Meg outside, enjoying her life.
From the moment news broke about the shooting, the Grammy winner, real name Megan Pete, has been a victim of constant harassment and online abuse from Tory's supporters. During the sentencing hearing, her victim impact statement was read by the prosecutor, with Megan writing, "I have not experienced a single day of peace. He lied to anyone that would listen." It's truly inspiring to hear her declare that none of this broke her spirit.
In addition to thrilling fans with her unforgettable live performances, Meg is set to hit the big screen in the quirky independent film Dicks: The Musical. Yes, that's the real title, and yes, it looks totally ridiculous. But I'm guessing that's what she needs in her life right now.
While this is a trauma she will likely never be completely over, it's clear she's ready to finally put all this behind her and move on with her life.