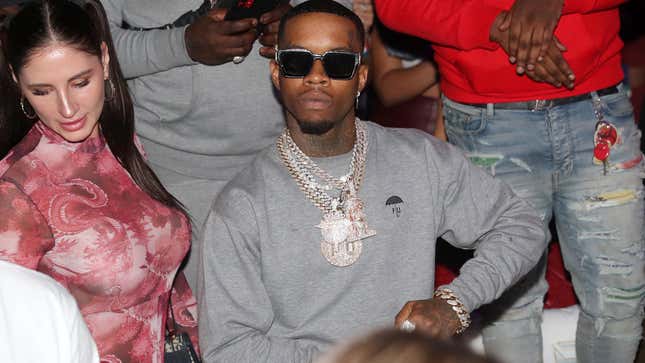 Though it's been only two days since rapper Tory Lanez was sentenced to 10 years in prison for shooting Megan Thee Stallion, per his lawyers, the Candian rapper isn't taking the news all that well.
Will The Real Black Journalists Please Stand Up
Speaking to TMZ after his sentencing, Lanez's attorney, Jose Baez, told the outlet that their client was "feeling pretty low" following his sentencing and is reportedly "having a hard time processing" his new reality. But Baez assured press that the "Say It" rapper is relying on his faith and the support of his family, friends, and fans to get him through.
"I think the sentence handed down was incredibly harsh. I have seen cases, vehicular homicide and other cases where there's death and the person still gets less than 10 years. This case—to get a 10-year sentence is extreme and really just another example of someone being punished for their celebrity status and someone being utilized to set an example. And he's not an example, he's a human being," Baez said.
He continued: "I think it's incredibly unfortunate and it's something that we plan on appealing. Incredibly disappointed that the district attorney's office didn't step up and put their money where their mouth was in this case. But hey, that's certainly in their discretion and that's why you have two sides of the argument. Look, even if you want to believe he's guilty of these charges: one night, with something so out of character does not judge an entire person's life."
Additionally, per the Daily Mail, Lanez's lawyers also plan to try to get him out on bail while they pursue an official appeal.