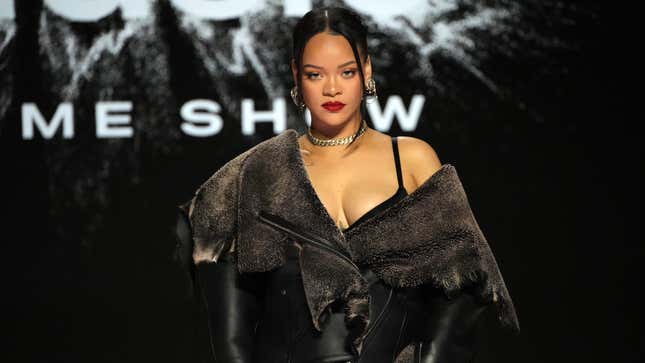 Believe it or not, we're just hours away from seeing Rihanna make her grand return to the stage as this year's Super Bowl LVI Halftime Show performer after a seven-year-long hiatus.
Superhoe and Mood's Nicôle Lecky Plays That's So Random
During a press conference with Apple Music on Thursday, Rih dished a little on what we can expect on her big day. And while it's not much (you already know that mystery and mystique is her M.O.), here's what we know thus far.
How Long Will Her Set Be?
During the conference, the ANTI artist said that it'll be a 13-minute-long set that will be a "celebration of my catalog in the best way we could have put it together," she said.
How Has She Been Preparing for It?
"The physical challenge has definitely been immense, for many reasons, of course. But, I haven't done this in a minute," Rih said. "First thing's first, so you're just running around for 13 minutes, trying to put a two hour set in 13 minutes, and you're gonna see on Sunday, it just, from the time it starts, it just never ends until it's like the very last second. Now I'm saying too much? But it's a jam-packed show, and it takes a toll on your body, it does.
She continued, "We're excited to do the Super Bowl. We are. We've been working on it for awhile, and every day it just gets closer and closer to the finished product."
How Does She Feel Doing This Big of a Performance After Becoming a Mom?
"It feels like it could have only been now. I mean, when I first got the call to do it again this year, I was like, 'Psst, you sure?' I'm three months postpartum, like, should I be making major decisions like this now?" the "Diamonds" singer explained. "Like I might regret this. But when you become a mom, there's something that just happens where you feel like you could take on the world, you could do anything. And the Super Bowl is one of the biggest stages in the world. So as scary as that was because I haven't been on stage in seven years, there's something exhilarating about the challenge of it all. And it's important for me to do this this year. It's important for representation, it's important for my son to see that."
Will We Get New Music?
While she didn't answer this question directly, nor did she confirm the speculation that she'd be announcing a 2023 tour as some previous reports have said, she did let us in on where she's at musically.
"I'm feeling open," she began. "I'm feeling open to exploring, discovering, creating, things that are new, things that are different, things that are off, weird, might not ever make sense to my fans, you know, the people that know the music that I put out. I just want to play. I want to have fun. I want to have fun with music."
What Time Will She Perform?
Because we never know just how long each quarter of the game will last due to a variety of variables, we know halftime is always after the second quarter ends so keep an eye out for that. Kick-off begins at 6:30 p.m. ET.