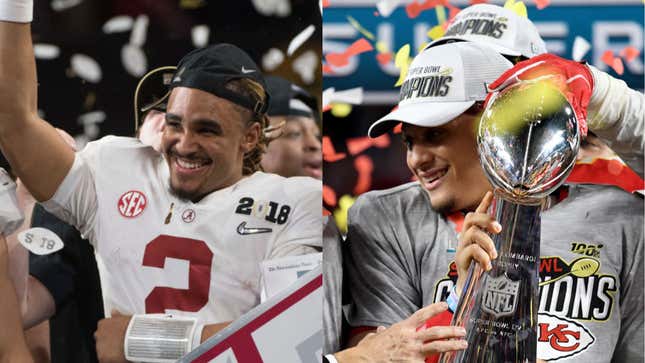 If nothing else, Super Bowls were made for predictions and hot takes. So here's mine: there's never been a Super Bowl featuring two more accomplished quarterbacks facing off against each other this early in their careers—and they both just so happen to be Black.
I know, it's big talk. Especially with so much focus on the historic, first-ever matchup between two Black quarterbacks vying for Lombardi Trophy glory. That fact deserves as much attention as it's getting, especially given the NFL's awful past of excluding Black players from the most important position on the field. But Black football players, like Black folk in any other endeavor, have never been content to just get on the field when they could rewrite the history of the game instead. And there's a good argument that that's what the Philadelphia Eagles' Jalen Hurts and the Kansas City Chiefs' Patrick Mahomes will do on Sunday, when they bring heftier resumes at younger ages than arguably any other Super Bowl quarterback tandem in football's modern era.

Don't believe me? Consider these:
That on Thursday night, Mahomes won his second league MVP award since he was drafted 10th overall in 2017. That matches the number of Super Bowls he's already led his team to in his young career; Sunday will be his third Super Bowl start.
That Mahomes has already been to five consecutive AFC Championship games.
That Mahomes is one of only two quarterbacks in NFL history to throw for 40 touchdowns and more than 5,000 yards in multiple seasons.
Mahomes is already a Hall of Fame lock whose early career trajectory draws comparisons to recently-retired Tom Brady. By age 27, Brady was also starting in his third Super Bowl. But unlike Mahomes, Brady–a 7th-round draft pick–wasn't drafted with the idea of being a franchise quarterback. He didn't carry the same expectations into his career from day one like Mahomes, who has already exceeded even the high expectations for a quarterback taken so early in the draft. And in his first three Super Bowl appearances—and possibly not ever, with the exception of the two championships he lost to Eli Manning's New York Giants—Brady didn't face a quarterback with the resume of Hurts.
It's almost impossible to fathom now, but a little less than three years ago, Hurts was being treated as more of a curiosity than the NFL's next big thing. Despite massive arm strength and ridiculous athletic talent, Hurts fell to late in the second round when he was drafted by the Eagles in 2020. Back then, the idea was that the Eagles planned to use him not strictly as a QB, but in a "Taysom Hill on steroids" role–a reference to the New Orleans Saints player who splits his reps between quarterbacking and playing tight end, and a reminder of a time when even all-time great Black quarterbacks like Warren Moon were admonished to change positions if they wanted to make it in the NFL.
Hurts' doubters should've seen this coming because in college, all he did was win. He was a Heisman Trophy runner-up in 2019, losing out to the Cincinnati Bengals' Joe Burrow, who himself has already led his team to a Super Bowl. Hurts led the Alabama Crimson Tide's winning drive in the 2017 national championship game, but transferred to Oklahoma the following year and led the Sooners to a CFP playoff berth. He holds the NFL's single-season record for rushing touchdowns by a quarterback. Compare Hurts' pedigree to that of other Heisman candidates who also made the Super Bowl and the contrast is stark.

Joe Theisman won a Super Bowl in 1983, but that was 13 years after he was the Heisman runner-up to Jim Plunkett, who won his lone Super Bowl in 1980. In any event, neither of them reached the big game until at least a decade after their Heisman chase, whereas Hurts is only three years removed. And again, neither of those guys faced an opponent with a resume like Mahomes' in the Super Bowl so early in their respective careers.

Of course, the past isn't necessarily a prologue. Mahomes' and Hurts' long list of accomplishments don't mean Sunday's game will be the best Super Bowl ever. They do mean, however, that it's a game you shouldn't miss. It could be a long, long time before you see two young quarterbacks this accomplished facing each other in a Super Bowl again.