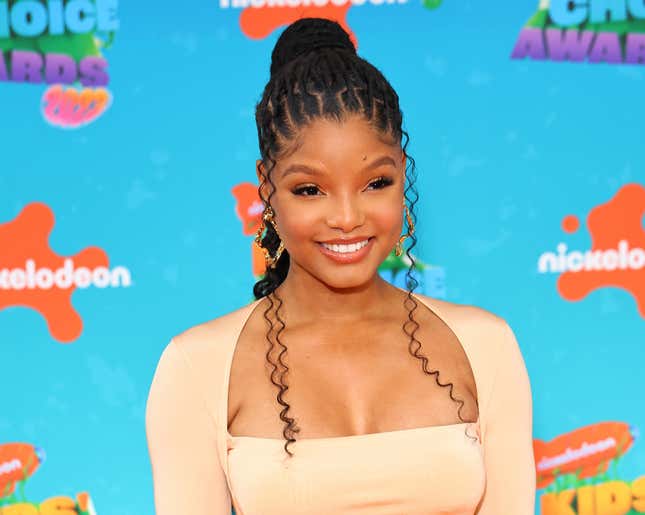 With the hotly anticipated The Little Mermaid hitting theaters on May 26, some merch from the film is starting to be revealed. In a very sweet Instagram video, the film's star, Halle Bailey, showed off the doll based on her Ariel. When you're a little Black girl, you don't have a lot of opportunities to find dolls that look like you. It's only been in recent years that toy manufacturers have made an effort to be more diverse and inclusive. I can't imagine how amazing it must be to not only see a doll of yourself but to see a doll of yourself as a Disney princess.

The Little Mermaid Can Talk To A Crab But She Can't Be Black? Get Out Of Here!
In the adorable video, Halle gets emotional as she holds up the Ariel doll to the camera and marvels over her hair and tail. "The little girl in me is pinching herself right now..i have my own Little Mermaid Ariel doll!!!," Bailey writes. "I can't believe how much she captures my version of this iconic character, brb gonna go cry now."
The Grown-ish star referenced how important the representation of her Ariel is in an interview with The Face.
"I know people are like, ​'It's not about race.' But now that I'm her…People don't understand that when you're Black there's this whole other community," she said. "It's so important for us to see ourselves."
I was lucky enough to see the entire "Part of Your World" sequence at the 2022 D23 Expo in September, and Bailey is absolutely stunning. After the footage concluded, she was met with a standing ovation from 7,500 diehard Disney fans. Do not underestimate how much of a hit this movie is going to be.
There was—and still is—backlash to the idea of a Black Little Mermaid, but those racist online trolls don't matter. What really matters is the Black girls who are seeing one of their favorite characters and lighting up because she looks like them. And you can expect many of those little girls to be first in line for Halle's Ariel doll. With Yara Shahidi portraying Tinkerbell in Peter Pan & Wendy, this is a big moment for Black Disney characters.
Halle Bailey as Ariel; Daveed Diggs as the voice of Sebastian; Jonah Hauer-King as Eric; Noma Dumezweni as Queen Selina; Javier Bardem as King Triton; and Melissa McCarthy as Ursula star in The Little Mermaid, which splashes into theaters May 26.