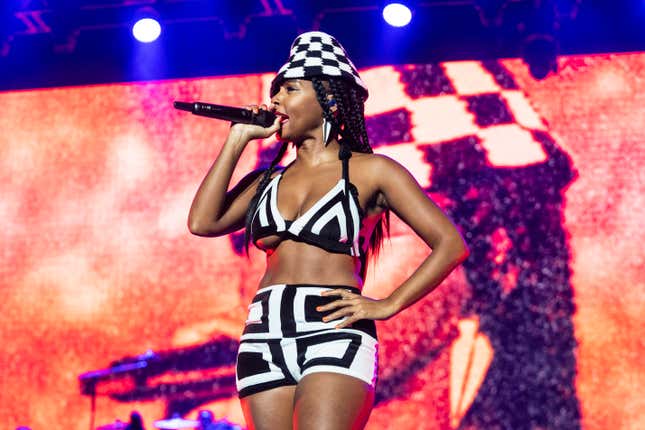 During Janelle Monae's performance at Essence Festival of Culture on Friday (June 30), The Age of Pleasure singer captivated fans with a memorable set consisting of hits like "Q.U.E.E.N" and "Tightrope." However, when the star performed her Jidenna-accompanied hit "Yoga," she lifted up her black and white geometric bikini top to flash her right breast as she recited the lyric: "Get off my areola!"
TikTok's Bold Glamour Filter: How To Get The Look With Make Up
The caveat is that her areola was covered by pink tape, which made for a slightly raunchy, yet playful moment. However, the backlash it sparked was outrageously loud and mostly online. Critics deemed the moment as downright crude, with hip-hop legend Uncle Luke chiming in to ask if Monae was suffering from a "midlife crisis" as if he didn't have Black women gyrating half naked in his music videos in the 1990s.
Neo soul luminary India.Arie also expressed her disdain at Monae's stunt, but her commentary didn't stop there. The "Brown Sugar" singer condemned Megan Thee Stallion's performance at Essence Fest in addition to Janelle's after Meg invited women from the audience to twerk onstage with her. "The issue is what is CONTEXT...does EVERYTHING BELONG IN A STAGE. No. is everything for KIDS? No. is everything for EVERY BODY?," Arie wrote."NO. so when we as a culture make something like this main stream ~ it shows a lack of discretion [and] discernment."
However, this energy was nowhere to be found for the male performers who often sexualize Black women in their songs, like Juvenile, Lil Wayne and Ludacris—who all performed at Essence Festival as well. It's only when Black women unapologetically—and brazenly—own our sexuality that the peanut gallery starts complaining.
It's also the reason why KeKe Palmer's boyfriend, Darius Jackson, became the main character on Twitter after he criticized a sexy outfit she wore to an Usher concert. Instead of admitting that he was bothered by the attention Palmer received directly from the "Confessions" singer himself, Jackson merely quipped "It's the outfit tho.. you a mom." He has since deleted the tweet.
Interestingly enough, Palmer has donned revealing clothes before, and even did a pregnancy photo shoot on social media wearing just a bra and underwear. However, Jackson decided to be publicly perturbed by her appearance at the Usher show. He continued: "We live in a generation where a man of the family doesn't want the wife & mother to his kids to showcase booty cheeks to please others & he gets told how much of a hater he is.
"This is my family & my representation. I have standards & morals to what I believe. I rest my case." That same kind of bozo energy—draped in respectability politics—was also present in the trolls who came for Tracee Ellis Ross after she posted a salacious photo on Instagram. Ross, who is 50, is known for her provocative fashion sense so posting a photo that would stun fans is entirely in her wheelhouse.
Ultimately, the controversy doesn't rest on the shoulders of Janelle, Megan, KeKe or Tracee, it lies within a society that has always punished Black women for embracing exactly who we are. For being in control of our bodies, for relishing in our sexuality, for unabashedly giving the middle finger to the mainstream.
Anytime Black women exude confidence and love ourselves out loud (read: Lizzo), we become fodder and are reduced to unfair attacks, cruel jokes and relentless discussion. What the detractors don't understand is that their negativity won't stop these entertainers from doing what they do best: giving audiences exactly what they want to see.