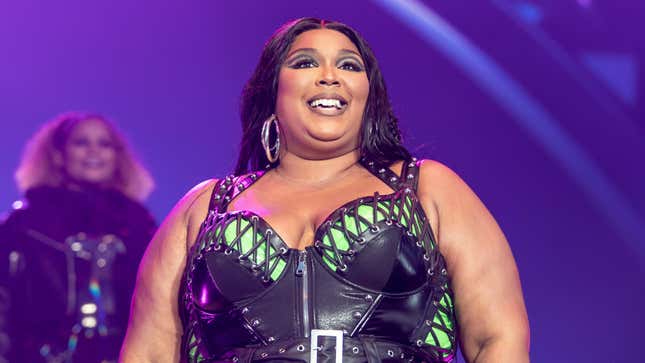 Lizzo has had enough of the body-shamers and recently let off some steam toward her haters on Wednesday.

In a series of tweets, the "Rumors" singer took her Twitter trolls to task after seeing tweets questioning how and why she's "still THIS fat" when she dances so much on stage during her tours.
"How is Lizzo still this fat when she's constantly moving this much on stage? I wonder what she must be eating?" the tweet read. To which Lizzo responded:
"I JUST logged on and the app and this is the type of shit I see about me on a daily basis It's really starting to make me hate the world. Then someone in the comments said I eat "lots of fast food" I LITERALLY STOPPED EATING FAST FOOD YEARS AGO… I'm tired of explaining myself all the time and I just wanna get on this app w/out seeing my name in some bullshit."
After another user questioned whether or not the "Good As Hell" singer really wanted to be a smaller size, Lizzo made it crystal clear that she isn't trying to "be" anything but healthy.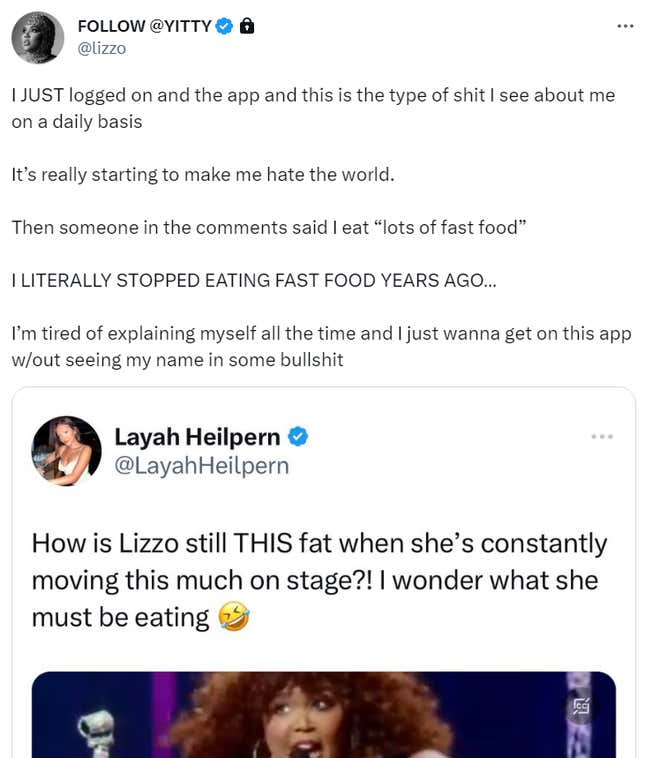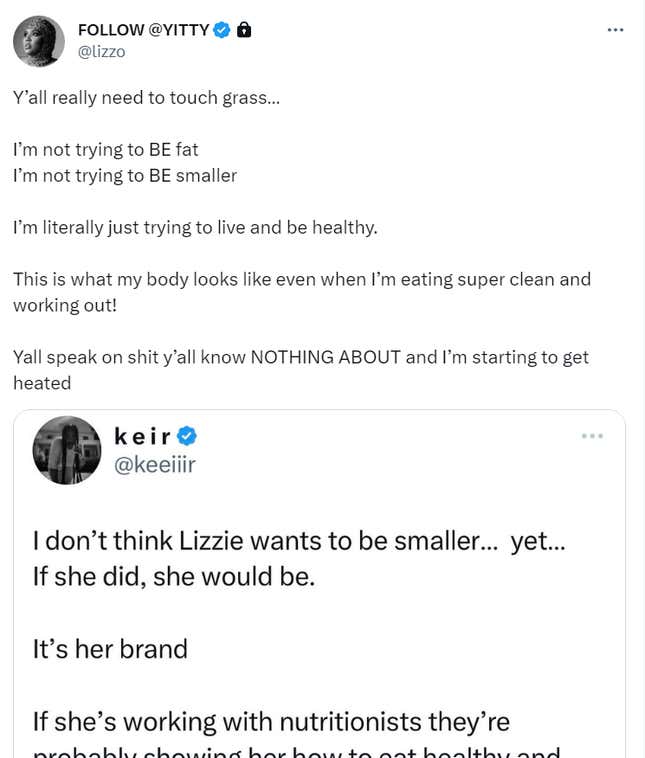 "Y'all really need to touch grass… I'm not trying to BE fat I'm not trying to BE smaller I'm literally just trying to live and be healthy," she said in another tweet. "This is what my body looks like even when I'm eating super clean and working out! Yall speak on shit y'all know NOTHING ABOUT and I'm starting to get heated."

She continued:
"I HATE IT HERE. The Love definitely do not outweigh the Hate on social media… all because I'm fat???? This is CRAZY. Y'all don't know how close I be to giving up on everyone and quitting and enjoying my money and my man on a FUCKING FARM. ALSO: to the people who haven't had an original thought or fresh air in years…BEING FAT ISNT MY 'BRAND' BEING FAT IS WHAT MY BODY LOOKS THAT. THATS IT. THATS ALL. My 'brand' is FEEL GOOD MUSIC My 'brand' is CHAMPIONING ALL PEOPLE My 'brand' is BLACK GIRL LIBERATION.

"I've always led w my TALENT… But when I dropped Good As Hell feel good music was 'corny' When I dropped Juice disco pop wasn't 'for them' When I was body positive in 2016 being body positive was 'pandering' Now everybody on that wave and I'm still shit on?! Man fuck y'all."
And as if we needed to add more fuel to the fat-phobic fire, Republican talking head Candace Owens also chimed in, tweeting the Grammy-nominated singer: "I guess Lizzo wasn't lying when she said 'truth hurts'. But yeah, clinical obesity is still the number 1 killer in America so let's stop glorifying it."
I've got a better idea: How about we stop glorifying being a shitty human being and spewing out vitriol for likes, clicks and clout? Lizzo is more accomplished and has amassed more accolades than half the idiots on Twitter who are wasting away by trying to tear somebody else down. It's 2023, COVID is still running rampant, inflation is still up, gas prices are still high. I promise there are more important topics to discuss.