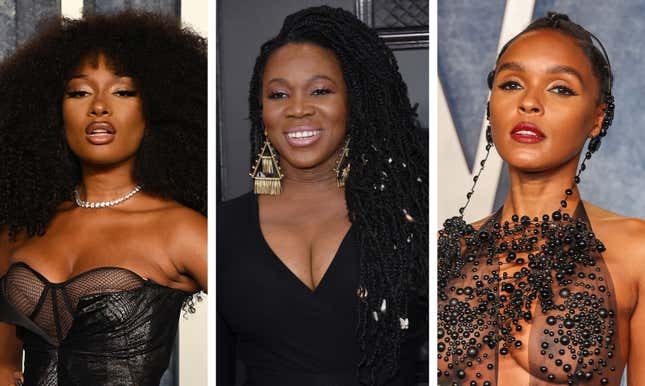 When you're a Black woman in the entertainment industry, everyone has opinions on how you should act and present yourself. Even other Black women feel the need to chime in on your art. To that end, Neo-soul pioneer India.Arie sparked debate when she criticized the sexuality presented by Megan Thee Stallion and Janelle Monáe during their performances at the 2023 ESSENCE Festival of Culture.

The Best Man: The Final Chapters Is Our TV Pick This Week
Toward the end of her set on Sunday, the "Savage" rapper invited a group of fans on stage to give them an expert lesson in twerking. Monáe, who was also criticized for flashing one of her breasts during her performance, played cheerleader from the side of the stage and everyone seemed to be having fun. Essence posted a short video of the moment on its Instagram page with the caption, "Hot girl bootcamp was in full effect last night. It's @janellemonae with the encouragement for us." While there were plenty of disapproving replies to the video, Arie's IG post is getting the most attention.
"The issue is what is CONTEXT. Humanity does EVERYTHING. But does EVERYTHING BELONG IN A STAGE. No. is everything for KIDS? No. is everything for EVERY BODY?," Arie wrote. "NO. so when we as a culture make something like this main stream ~ it shows a lack of discretion [and] discernment."
"Just as many folks have the right to want our MAINSTREAM International export—out Music—to show us in a respectful light," she continued. "[I'd] like to go on the record saying : this wont age well and thats my issue. i LOVE Janelle and Meg the way i love us all—And i dont like this moment. Dont bother debating me lol idc and I DO this. For 25 yrs ive done THIS. so read ponder or dont."
The "I Am Not My Hair" singer's comments were dissected on Twitter, with one user writing, "Don't nobody give a damn what India Arie thinks about Megan Thee Stallion and Janelle Monae."
Another person pointed out that it seems to come down to a difference in genres, tweeting, "I wouldnt say its a drag. Its just hatin and unnecessary. Megan make ass shakin music that's how her performances supposed to go. India Arie nem don't mke that kinda music so of course you wouldnt be on stage shakin ass talkin bout 'i am not my hair.'"

I understand there is concern about the way Black women and girls are sexualized in mainstream society. And rightfully so. However, there also has to be room for us to be comfortable and confident in our sexuality without worrying about what others think. Megan Thee Stallion has never claimed to be a kids' artist. When you announce her as the headliner of your music festival, she's going to give you "Hot Girl Meg" because that's what her fans want. At the same time, if you book India.Arie, you're going to get thoughtful ballads on love and self-acceptance. There has to be room in the culture for Black women to be all of these things, and to that point, the weekend also featured performances from Ari Lennox; Coco Jones; Monica; Muni Long; Ms. Lauryn Hill; and Missy Elliott. Black women were represented from across the musical spectrum.
Yes, there was booty shaking, but there were also R&B love songs and female empowerment. This world is hard enough without some Black women dictating what's acceptable for other Black women. Just let us enjoy our free time the way we want without making everything a huge cultural debate.