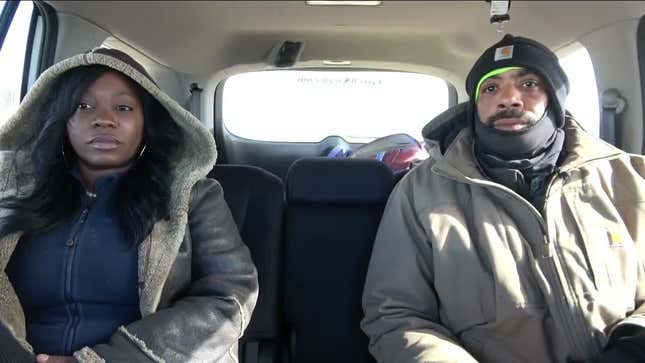 Ugh! Finally, something positive has come in this never-ending feud. The Mallerys, a Black ranch couple who claim they've been racially harassed by their neighbors, have had their charges dropped, per Colorado Public Radio. They ended up getting charged with stalking after trying to get their neighbors charged for the same damn thing.
Small Town Horror Story: The Racist Ranch Feud
Yoder residents Courtney and Nicole Mallery were charged with felony stalking after accusing their neighbors in of trespassing, killing their livestock and making racist threats. According to body camera footage, they called the police over 100 times to report these incidents and also had cameras set up around their home to monitor activity outside. However, one of their neighbors (who had a restraining order on them by the Mallerys) alleged they were using the cameras to spy on them. After that one 911 call, the ranch couple were arrested, the report says.
Supporters, including the Rocky Mountain NAACP, rallied for their release and called for their charges to be dropped, accusing the El Paso County Sheriff's Office of being biased in their actions regarding the back-and-forth. The couple agreed to mediate with their neighbors back in April but according to the report, that didn't go well.
It seems something else worked out on the backend for the couple to have their freedom.
Read the statement from attorney Tyrone Glover:
Today, prosecutors and the Court dropped all charges against the Mallerys, determining they could not prove guilt beyond a reasonable doubt. This dismissal comes four months after the Mallery's arrest, and with the resolute advocacy and demands for accountability from the Mallerys and many in the community.

We are pleased with this outcome and recognize the District Attorney's office for reaching this conclusion. While justice has been served today, the fight for individual, law enforcement and prosecutorial accountability are far from over. We implore the District Attorney's and Sheriff's Offices to conduct more thorough front-end investigations before filing charges, to minimize injustices such as these in the future and to ensure the criminally accused are afforded due process of law.