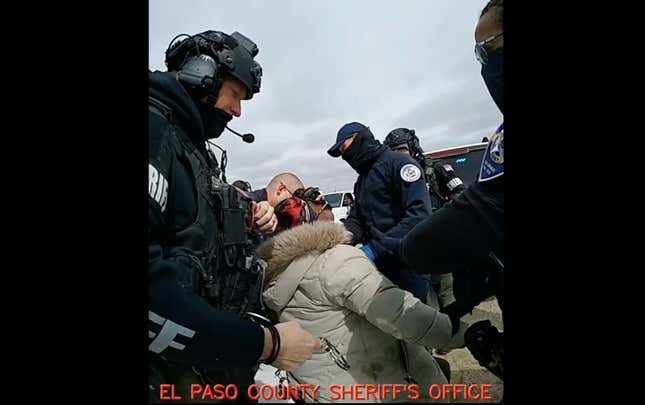 The El Paso County sheriff's office in Colorado has begun rolling out body camera footage from each of the over 100 reports made by a pair of Black ranchers, per Fox31 News. The couple has been alleging racial harassment and animal mutilation for two years. However, their neighbor's counter complaints have seemingly turned law enforcement against them.

After the public was made aware of this true crime horror story, criticism came down on the El Paso police officers in their handling of the extensive list of complaints filed by Courtney and Nicole Mallery. The Sheriff's Office announced they would release 96 videos and 38 hours of body camera footage displaying law enforcement's response to the Mallery's many 911 calls.
Only some of the videos have been made available publicly, including a case when the Mallerys claimed their sheep were poisoned. The responding officer noted in the report that the suspected poisoning was alleged to be part of a "long-standing neighbor feud." 
Although the majority of the case reports uploaded so far show sheriff's deputies casting doubt on the Mallery's egregious accusations – specifically, Nicole Mallery's accusations.
Read about one case from KDVR News:
During a presentation a few weeks ago, the Sheriff's Office uploaded video from an incident in April 2021 involving Nicole Mallery, a weapon and a trespasser.

In that video, Nicole Mallery says to a deputy, "I was like, 'Give me some ID,' and he just started running." The deputy then says, "What I'm trying to figure out is at what point did the weapon discharge, because he's saying there was a discharge of the weapon in the air." Nicole Mallery responds, "That did not happen."

The trespasser was a court process server who FOX31 has now learned was wearing a body camera at the time of notice. The video shows the man walking about Mallerys' Freedom Acres Ranch, knocking on a door with no answer. Then Nicole Mallery is heard yelling and cursing, and the man runs off scared.

During the brief encounter, Nicole Mallery is not in the frame, but a gunshot is heard, which is what the court process server reported. Nicole Mallery was charged in the incident.
In several reports, the responding officers made note of Nicole Mallery's comments and behaviors, low-key playing into the "angry Black woman" stereotype. They described her as "irate" or "abusive" and noted every time she remarked white cops treating her differently because of her race. Well, they gave her a reason to believe so, considering she was arrested violently for violating a restraining order compared to her neighbors, who were also arrested for violating theirs.
In the video of her detainment (pictured above), she's seen wailing loudly in excruciating pain, alleging her arm was broken while being arrested.

Despite the surveillance camera footage, screenshots of lynching threats and other pieces of evidence the couple tried to offer, they are still being painted as either the perpetrators or Karens of the neighborhood.