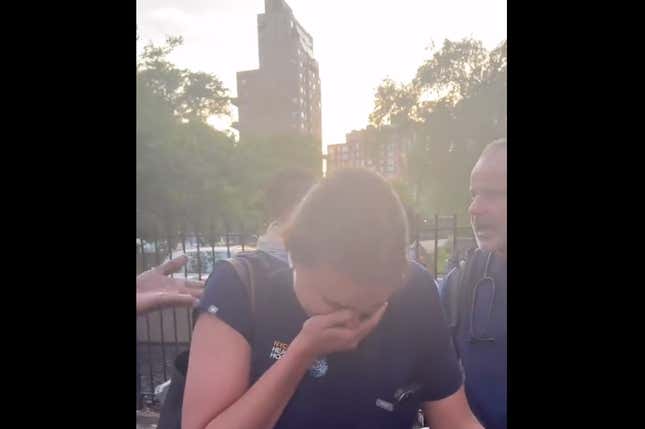 Updated as of 5/17/2023 at 9:30 a.m. ET
Uh oh... the employer of the New York Karen who allegedly tried to steal a Citi Bike from a Black teen has seen the video of her fake meltdown, per Insider. This incident nearly put the Karen's job in jeopardy.
Tackling A Black Maternal Health Crisis & Embracing Reproductive Justice | The Root Institute
In a statement to Insider, a spokesperson for NYC Health + Hospitals said they are aware of the video and called the incident "disturbing."
"The provider is currently out on leave and will remain on leave pending a review. As a health system we are committed to providing an environment for our patients and staff that is free from discrimination of any kind," read the statement.
Though the Karen was not identified in their statement, the internet pulled up a profile from Bellevue Hospital's website identifying the woman as a pediatrician by the name of Sarah Jane Comrie. They pulled up her personal social media pages, pictures of her with her baby daughter and the whole nine. Apparently her accounts have since been deleted but that only led online users to go find her husband (insert face palm emoji).
Other users were looking forward to her leave or termination from the medical facility in concern of the Black mothers and infants who may have had to come across Miss Comrie.
"Hate to say it but when I saw this, first thing I thought of was disparity of infant survival rates between white and black newborn infants. She in healthcare but thought nothing of creating a situation where cops show up and put the actual victims in hospital..." wrote one user.
Wait, What Happened?
All of this drama began from another cringey, embarrassing Karen tantrum. In a video circulating social media, a white woman is seen trying to steal a Black teen's Citi Bike after he registered the bike to himself, per REVOLT. Her sudden cry for help drew an eerie comparison to a decades-old tactic by white women that endangered the lives of innocent Black men.

The video begins with the woman screaming, "Help! Help! Please help me!" while squeezing on the handlebars of a Citi Bike. Despite her signals of distress, her facial expression was blank. One Black teen stood next to her while also holding the bike, explaining that he already paid for the it. The few other Black teens around the two were heard off camera insisting the same notion and accusing her of purposely trying to make a scene. However, the woman went to her next tactic which was fake crying and scrunching her face up to force a tear to fall.
"You're hurting my fetus," she said to the teen.
It was only until another white man arrived (who also appeared to be calling the police) and suggested she take another bike that she hit the off switch on her meltdown and all of a sudden, nothing was wrong.
Watch the whole thing on Twitter:
She succeeded in making a scene but... while wearing her hospital uniform. The internet wasted no time calling up NYC's Bellevue Hospital to complain about their employee. In response, they released a statement:
As for the internet, people are still reeling over white women weaponizing their tears because they didn't get their way. It's particularly foul when a Black boy is on the receiving end of the nonsense because they know a responding officer is more likely to show the white woman care and concern.
"She's a d-list actress & thief at best. She could have gotten these black men seriously hurt or killed," wrote one Twitter user.
"This right here is one of the many dangerous situations our children face on a daily bases. I'm glad this didn't go any further wrong than what it already did. I'm even more proud to see these young Kings keep their calm and not escalate it any further," said another user.