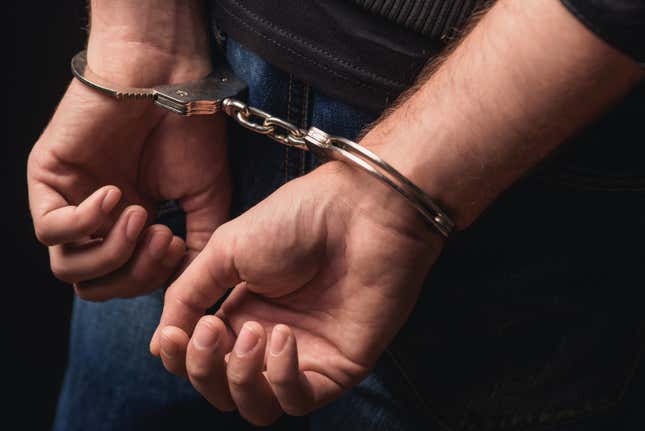 A Wisconsin man was arrested after going on a racist tangent toward an employee at a sandwich shop at a Connecticut airport, per the CT Insider. Police say the state's hate crime unit is looking into his hateful behavior. However, they have a hate crime issue to address from the residents of their own state.

Afraid Of Losing Political Power, White People Weaponize "Identity Politics"
A sandwich was enough to send Michael Barnett, 38, into a Karen-inspired spiral. At the Bradley International Airport Saturday evening, D'Angelo Grilled Sandwiches ran out of bread. The employee who was working at the time of the shortage, a Black woman, told Barnett all she could do for him at that point was offer him a wrap instead, the report says. Rather than accept the circumstances, police say Barnett began cursing, making threats and throwing racial slurs at the employee.
Those who witnessed this hangry tirade reported him to the police and he was taken into custody and placed on a $2,500 bond. Barnett is being charged with second-degree breach of peace, third-degree intimidation based on bigotry and second-degree threatening.
The Connecticut State Police Department's Hate Crimes Unit was alerted of Barnett's arrest. It may come as a surprise to some state residents that an arrest was even made considering how the majority of hate crimes are handled in the state. In 2022, the FBI reported a total of 89 hate crimes occurred in Connecticut. Though that number is lower than other states or cities that saw dramatic increases in hate crimes, the Hate Crimes Advisory Council anticipated an upsurge and suggested more should be done by law enforcement agencies to address them.
Read more from a previous CT Insider report:
Of the 59 cases in 2022 in which the state police hate crimes unit got involved — either an incident falling within the state police jurisdiction or the unit providing assistance to another agency — 44 cases were suspended with no leads. Two cases were referred to the FBI and four cases resulted in a juvenile summons.

Only five cases resulted in an arrest, with charges relating to bigotry and bias, deprivation of rights or property and threatening.

There is also no unified understanding across police departments of what constitutes a hate crime, according to a 2022 report issued by the state's Hate Crimes Advisory Council.

"At present, there is no standard hate crimes policy for police departments to reference that clearly defines the elements of bias crimes and sets out clear reporting and investigating procedures for all law enforcement agencies, including the 92 municipal police departments," the report says.
Greater Hartford NAACP president-elect Corrie Betts told the Hartford Courant the FBI's numbers could be off because not all incidents are reported to police or even labeled as hate crimes. Additionally, the Anti-Defamation League tracked the distribution of white supremacist flyers across 21 towns in the state last year.
Mr. Barnett may have brought his hate from out of town but it only emphasizes that there are more people like him in Connecticut who need to face the same discipline.