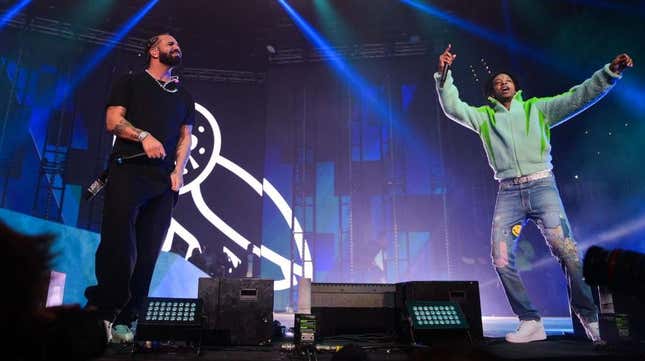 You can count on Drake being petty. As evidenced by the recent shot he took at Childish Gambino over a song that came out five years ago, the Toronto rapper has smoke for everyone.
Kanye West Needs To Stop Bullying Black Women
If you don't recall, for their promotional campaign for Her Loss, Drake and 21 Savage posted hilarious parodies of what a typical press rollout would look like for other artists in the music industry. The first of those parodies was a fake Vogue magazine cover of the duo, which looked legit, but in reality, was not.
While it was an amusing way to promote their collab album, Vogue did not find the fake magazine entertaining, and Conde Nast, the owners of the magazine, sued both 21 Savage and Drake for using Vogue's name without their permission.
They claimed that the promotional campaign was built on the unauthorized use of the magazine's trademarks and false claims that they were going to appear on the next cover, with the support of Anna Wintour, the editor-in-chief of Vogue.
Shortly after, a judge overseeing the case issued a temporary restraining order and "preliminary injunction" against the duo, making them take all and any images of the fake magazine cover down and stop any further distribution.
While the two sides eventually came to an agreement in court in March, it seems that Drake still has some disdain for the magazine and the actions they took against the "Rich Flex" duo.
During Drake and 21's latest stop on the "It's All A Blur Tour," the jumbotron in the arena showed a less-than-ideal hologram of Wintour, making her look more like a zombie than a human.
While nobody has confirmed that the hologram is indeed supposed to be Wintour, the signature sunglasses and hairdo are almost impossible to mistake.
Who will Drake take a shot at next during his worldwide tour?