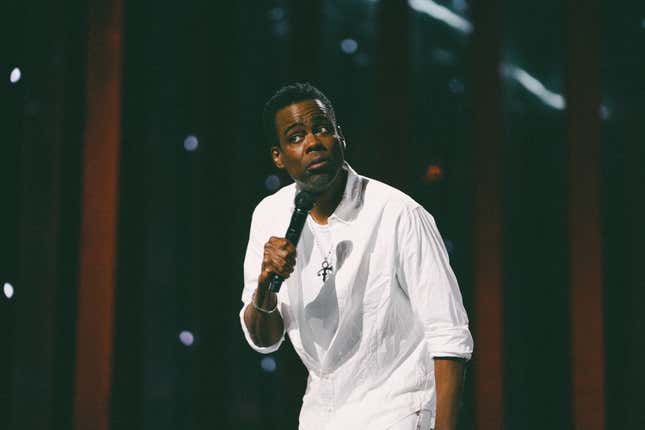 Chris Rock finally publicly addressed "the slap" in his new Netflix special Selective Outrage, and honestly, it was just as rough as we all expected it to be. He took no prisoners as he went after both Will Smith and Jada Pinkett Smith. Just in case you've been living under a rock and need a reminder, at the 2022 Oscars, after Chris made a joke about Jada bald head, Will stormed the stage, slapped him in the face and screamed "Keep my wife's name out your fucking mouth!" An important piece of this story is that Jada is bald due to alopecia. The incident led to a never ending debate about the state of Will's career, the Academy's reaction to the situation, Will and Jada's marriage, Rock's standing in the Black community and his tendency to make Black women the butt of his jokes. Simply put, it was a mess. Now that it's a year later, and the 2023 Oscars are just around the corner, we're still examining many of the same issues.

Idris Elba Is Back in, Luther: The Fallen, Sun Our TV Pick This Week
Are We Really Still Talking About Entanglements?
The most controversial part of the show—and frankly this whole situation—is how much blame is being put on Jada. Chris made a point of bringing their very public marital issues into the special, basically saying that Will slapped him because he was still upset about Jada's "entanglement." Rock is welcome to his opinion, but Will is a grown ass man who has made it clear that he alone is responsible for his actions on that night. And it was very unnecessary for him to call Jada a bitch as many times as he did.
SiriusXM host Reecie Colbert thought this part of his set was a distraction, writing, "Remember Chris Rock punched down on Jada over her alopecia condition. All the deflecting he is doing bringing up entanglements is gaslighting. He knows that the world hates a Black woman with sexual agency, so he has to make that the topic, not how he violated and humiliated her."
The reviews on Twitter were brutally honest, with some viewers praising Rock's takedown of Will and Jada, as well as his big Netflix payday. Meanwhile, others were not happy with his continued attacks on Black women, as he also made fun of Meghan, Duchess of Sussex during the special.
Calm Down, They're Just Jokes
One user tweeted, "Chris Rock just gave us a masterclass on extracting value, he got slapped a year ago and never spoke about it unless he was getting paid. Last night, he did ~2hrs of mid material and then talked about "the slap" for 10 minutes and $NFLX paid him $40M, well played Chris."
Another fan showed their support for the Amsterdam actor, writing, "Love it! Chris Rock didn't react like Schill Smith. Chris Rock instead responded by keeping his mouth shut and did the work to put himself into a position where he took the lemons and made sweet sweet lemonade. I wouldn't give 1 Chris Rock for 100 Schill Smith."
Another message noted that everyone was taking it all too seriously, tweeting, "It was funny, too many of yall just can't take a joke.. you go into looking for what you can get mad about. The days of, it's a joke is gone, yall ruin comedy and movements. Not every thing is a movement, it's just comedy..#selectiveoutrage was a perfect theme for his show."
One user agreed with Rock's assessment that it was the wrong place to air this beef, tweeting, "Someone call the police. Chris Rock just killed Will Smith onstage: 'Everybody called him a bitch…but he chose to hit me. But my momma raised me: You don't fight in front of white people' *mic drop* It was fantastic!"
Chris Rock Can't Stop Disrespecting Black Women
Andscape writer and ESPN personality David Dennis Jr. tweeted, "The most Chris Rock thing about all of this is him screaming that you don't fight in front of white people but not even considering what it means to make jokes about a BW and her hair in front of white people."
The 1619 Project's Nikole Hannah-Jones also had harsh words for Rock, writing, "I stopped messing with him when he did the entire bit about Black people versus n*ggas, and he didn't mind one bit that his audience was heavily white. So he can miss us with that."
Journalist Ernest Ownes highlighted the contradictions in Rock's complaints about Will, writing, "Misogynoir in comedy is Chris Rock joking that Black people don't fight in front of white people while proceeding to call a Black woman a bitch in front of white people after being slapped for disrespecting a Black woman's hair in front of white people at another event. Sure."
One user seems to think the comedian is going after a very specific audience, tweeting, "Chris Rock makes comedy for white people who have a Black friend."
Comedian Loni Love, who understands both sides of this situation had some thoughtful words for her colleagues, tweeting, "I don't expect my other fellow comics who are not Black Women to understand the complex issues of some of the Chris Rock set.. they have not had to endure the issue of sexism and racism from an industry that doesn't understand you as a Black Woman. #grace"
Who Told Him Abortion Was Funny?
I'd be remiss if I didn't also mention his extremely tasteless "jokes" about abortion. He went for an easy punchline about a complex, emotional subject that deserves better than this BS.
One viewer was not amused in the slightest, tweeting, "Absolutely Hating Chris Rock's long bit about abortion…and just as I am typing this he is doing his bit on his rich kids and I still ain't laughing. I'm only watching cuz I'm waiting for him to address the Slap - come on."
Another viewer had a pretty simple take on the show, writing, "Abortion jokes. Trans jokes. Chris Rock is not funny."
Journalist/author Touré saw some very familiar themes in the special, writing, "Chris Rock's set featured an attack on PC culture, said everyone is too quick to be a victim, said wokeness is BS, said abortion is murder, and laughed about how dark Draymond Green is. It's a pretty right wing outlook on the world. The set would fit on Fox News."
Reply on Facebook and let us know what you thought of Selective Outrage. Was Chris Rock too hard on Will and Jada? Or did they deserve his particularly brutal jabs?