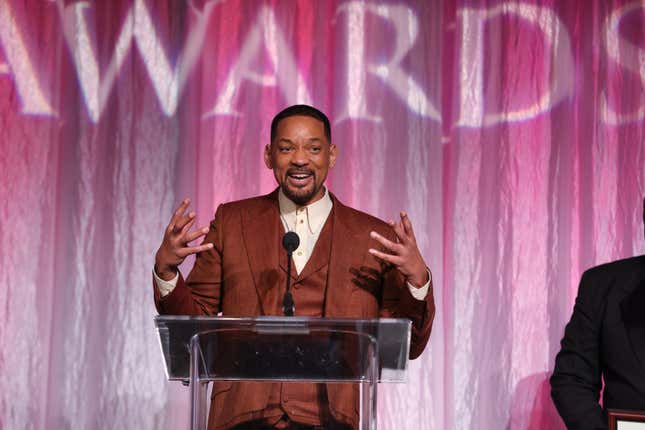 Will Smith may not be allowed to attend the Oscars this year, but that doesn't mean he's completely skipping awards season. On Wednesday, the superstar was honored with the Beacon Award at the African American Film Critics Association Awards. He and director Antoine Fuqua were recognized for their film, Emancipation. In addition to thanking Fuqua, the cast, crew and producers, Smith used his time to recall a moment on set where he connected with his character, Peter.

"It was the second day of shooting and 110 degrees," he began. "I was in a scene with one of the white actors. The actor decided to ad-lib. So we're doing the scene. I did my line. He did his line. And then—ad-lib—he spit in the middle of my chest. I wanted to say 'Antoine!' But I stopped and realized Peter couldn't have called the director. So I sat there, took a breath, and we did take two. The actor felt that the ad-lib had gone well. So we do take two. I do my line, he does his line, and spits in the middle of my chest again. In the distance, I hear a voice. And Antoine says, 'Hey, let's do a take without the spit.' And in that moment, I knew that God was real."
This was Will's first awards show appearance since his infamous slap of Chris Rock at the 2022 Academy Awards. In case you've already forgotten, Smith slapped the SNL alum on stage at the 94th Academy Awards. Rock made a joke about his wife Jada Pinkett Smith's bald head, Will stormed on stage, slapped the comedian in the face and told him, "Keep my wife's name out your fucking mouth!" A few minutes later, Will won the Best Actor award for King Richard. In the aftermath of the incident, the former Fresh Prince was suspended from the Academy for 10 years and became the subject of endless criticism and discussion.
In recent months, Will has been slowly returning to the spotlight. First, he officially announced he and Martin Lawrence were reuniting for Bad Boys 4, then we heard that he's set to appear in the follow-up to I Am Legend. He recently won the NAACP Image Award for Outstanding Actor in a Motion Picture for Emancipation, so it appears that Black audiences and critics aren't ready to write him off for one bad moment.
Look, there was never a question of whether Will Smith would return to the spotlight. It was just a matter of how long he would take to get back out there. It seems the timeline was just under a year for him to once again charm fans and remind them why they've loved him since "Parents Just Don't Understand."