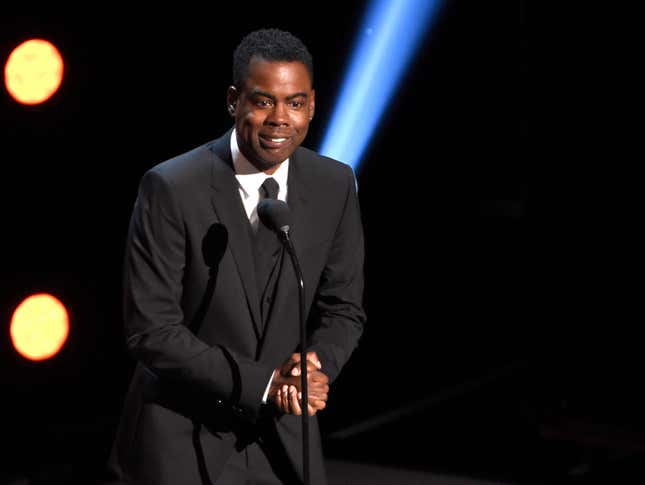 It took a year, but Chris Rock got his slap in and spilled a whole bunch of tea during his new stand-up Netflix special Selective Outrage, which was the first live event to stream on the platform. "People always say words hurt…anybody who says words hurt has never been punched in the face,'' he said, the only real reference to the slap until the end of the show.
Omari Hardwick On The Mother & Jennifer Lopez, Poetry, & More
Whether you believe Rock deserved the slap or not (many out there do), we all have to admire the New Jack City actor for his patience, saying nearly nothing about the slap seen around the world during last year's Academy Awards — until now!
Rock went in on Will Smith only after he spent most of the hour coming off as a little angry, preachy, and not very funny—well not at first (not to me anyway). He joked about wokeness, the Jan 6 attack on the Capitol, abortion, White fragility, sexism, ageism, racism, the Kardashians, Meghan Markle, and his spoiled rich kids. Sigh.
I say all that to explain that the beginning of the show was merely digression, which I am doing now, so let's just get to the good part—the tea.
Rock laid the blame for the slap solely at the feet of Smith's wife, Jada Pinkett Smith:
Claiming Smith was likely just embarrassed by his wife who interviewed her husband online during her show Red Table Talk where she discussed having an affair on her husband with one of their son's friends. "Y'all know what happened. I got smacked at the fucking Oscars by this motherfucker,"
Rock said Will Smith selectively picked Rock to slap because he was smaller:
"People were like, did it hurt? It still hurts." He added that Will Smith is bigger than he is. There was no way he was going to tussle on stage at the Oscars—especially with a man who played "Muhammad Ali" in a movie. "You think I auditioned for that part? I played Pookie in 'New Jack City.'"
Chris claimed Jada had a beef with him...
Ok this was very confusing but bare with me. He claimed Jada said he should quit (I guess he meant quit hosting the 2016 Oscars when Jada criticized the lack of diversity) because Will didn't get nominated for Concussion. "What the f—-? So I did some jokes about her, who gives a f—-? That's how it is: She starts it, I finish it. That's what the f—- happened. Nobody's picking on this bitch. She started this s—-, nobody's picking on her. She said me, a f—-ing grown ass man should quit his job because he wasn't nominated for Concussion and then this n—— gives me a f—-ng concussion!"
He thinks Jada hurt Will by Cheating on him
"She hurt him way more than he hurt me," Rock said, adding that Will practices "selective outrage." Ha! now we know the entire special was about that slap and Will's Selective outrage.
"Everybody knows what the fuck happened," Rock said. "I didn't have any entanglements. Rock criticized Smith for getting selectively angry about a joke about his wife—when she was the one who embarrassed her husband. "Will Smith's wife was fucking her son's friend," Rock said – which is foul on any level. "Now, I normally would not talk about his shit," Rock continued. "But for some reason, these nword put that shit on the Internet." We've all been cheated on, Rock added, but "none of us have been interviewed by the person that cheated on us on television. None of us. She hurt him way more than he hurt me."
Saying Everyone called Will Smith a " b*tch,'' he named names
"Everybody in the world called him a bitch. Everybody called his wife a predator," Rock told the crowd to raucous laughter. "And who did he hit? Me! A nword he knows he can beat. That is some bitch ass shit."

Why Rock said He Didn't Hit Chris Back
"You'll never see me on Oprah or Gayle crying," he said. "I couldn't believe it and I loved "Men in Black, no. It's never going to happen. I took that hit like [former Filipino boxer Manny] Pacquiao, motherfucker. Rock also said there was a reason he didn't hit Smith back.
"Cause I got parents. That's why. I was raised. And you know what my parents taught me? Don't fight in front of White people."
Aliah Wright is the author of the forthcoming novel, Now You Owe Me, debuting next summer.