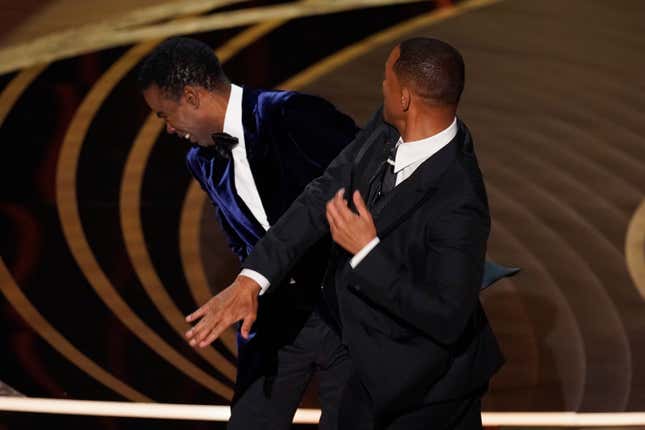 It's been one year since the world watched Will Smith slap the taste out of Chris Rock's mouth during the Oscars. The shocking moment—which many people assumed was part of a premeditated skit—sent shockwaves through Hollywood. Not only did people overwhelmingly sympathize with Rock, but they also painted Smith as a dangerously violent Black man with an anger problem.
Omari Hardwick On The Mother & Jennifer Lopez, Poetry, & More
Rock's new stand-up special on Netflix, "Selective Outrage," which streamed live (March 4) and was Netflix's first live event, was very "Chris Rock." All we have to say is we told Y'all Chris has a problem with Black women. He finally talked about life since being hit by Smith, though his latest jokes were all about Smith's wife, who he said was no victim.
If you want a roundup of what he said during the live show, check this link out: Here you go.
He spilled some tea but guess what: he focused strictly on a Black woman for all of his problems: Jada! He's always focused on Black women in his comedy and his bitch-laden live sketch was straight up mean and no different.
We knew the nastiness was coming because a few days before, according to the New York Post, during his set at the Comedy Cellar in Manhattan, Rock made a joke that some people considered downright wrong.
"I rooted for Will Smith my whole life," he said. "The other day, I watched Emancipation just so I could watch him getting whipped." Rock added that he "got it so hard—I heard 'Summertime' ringing in my ears." However, looking at the infamous moment a year later, many have come to understand why Smith hit Rock.
It's not about condoning violence, but words—especially ones that make Black women the punchline—should have consequences. It wasn't just him targeting Jada Pinkett-Smith, who suffers from alopecia, that's got him in trouble with Black men and women through the years.
Antagonizing Black women has always been part of Rock's approach to comedy and TikTok users have continuously pointed that out. Some even stated Rock had that hit coming. A quick Google search of "article defending Chris Rock" yields over 8 million results while the phrase "article defending Jada against Chris Rock" has just 2 million results.
Though it's clear a lot of folks still think that the star should be able to joke about whoever he wants, it seems like they're ok with it because he is known for going after Black women. Here are a few examples of when Chris Rock has publicly insulted us.
He's made fun of Jada Pinkett-Smith since 1997.

The 2022 Academy Awards wasn't the first time Rock had publicly insulted Jada. He mocked her in 1997 when she participated in the Million Women March, which made him a hypocrite. Even though Rock is a comedian known for making fun of people, Pinkett-Smith was fighting for Black women equality and Rock was married to a Black woman during that time. He also has Black daughters. Later on, Rock made a joke about Jada's decision to boycott the 2016 Oscars because of the Academy's lack of diversity. During his opening monologue at the ceremony, Rock stated: "Jada got mad, said she's not coming. Jada boycotting the Oscars is like me boycotting Rihanna's panties. I wasn't invited."
Chris Rock's 2009 Good Hair documentary painted Black women in a bad light.

Rock made Black women the subject of unwarranted scrutiny and critique with his 2009 documentary Good Hair, which oversimplified the impact of white supremacy on Black folks overall. Chemical straighteners and wearing hair extensions isn't about wanting to be white—it's about us being forced into assimilating because we are routinely punished for wearing our natural hair. All women from various cultures wear weaves and seek long, luxurious hairstyles. He even had the nerve to run his fingers through Oprah's hair to see if it was real (you read that right). He rightfully received a plethora of backlash.
Black women were regular punchlines in Chris Rock's standup routines.

Chris Rock was married to ex-wife Malaak Compton-Rock for nearly two decades, but the pair divorced in 2016 due to his self-described "bad behavior." In a 2017 cover story for Rolling Stone, he referred to himself as a "piece of sh*t" during one of his comedy sets and described how he cheated on his ex with three different women. A year later, Rock 2018's special Tamborine received backlash for how he said Black women "act" in relationships.
One TikTok user collected multiple the times the comedian made fun of Black women. In the clip, Rock said that Barack Obama needed a white wife to win the presidency and that's because they know how to "play [their] position." Black women, he said, on the other hand would try to play a Black man's position. This is especially hurtful knowing the historical relationship between Black women and white women; it dates all the way back to slavery and includes them being as abusive to us as white men were.
Additionally, there have been countless times where white women have intentionally put the lives of Black men in danger with criminal accusations that are routinely false. And who could forget when Chris Rock said that as soon as Black men get money, they start desiring white women? Rock has said Black women get enraged at the thought of Black men dating outside their race and apparently, we get more "angrier than southern white men."
He then commented that we're projecting that anger onto Black men because we're really just mad at ourselves when honestly, Black women could care less about who they date. The Root has examined the most notorious moment in the history of the Oscars quite extensively, but ultimately talk sh*t, get hit is a very real thing—and Rock deserved to find that out the hard way.