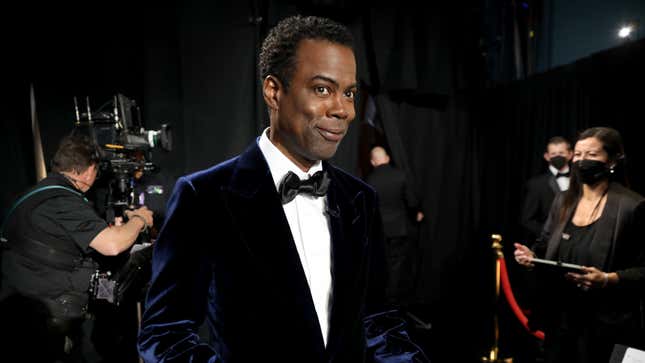 Ready or not, here it comes. And by "it," I mean the highly anticipated live comedy show from Chris Rock, Selective Outrage, set to debut on Netflix on Saturday. But before fans and curious viewers tune in, we've already gotten a sneak peak into just how the comedian plans to address Will Smith and the now infamous Oscars slap.
Chris Rock's Selective Outrage Is To Promote Respectability Politics
At a recent set at the Comedy Cellar in Manhattan, Rock reportedly tested out material he was going to be performing this weekend, according to the New York Post. In one part, Rock explains how he's always supported Smith but after the unfortunate incident, he's watching his new film Emancipation for a totally different reason.
"I rooted for Will Smith my whole life," he said. "The other day, I watched Emancipation just so I could watch him getting whipped."
He later quipped, "Will Smith practices selective outrage. People who are in the know, know that shit had nothing to do with me. He is significantly bigger than me. You will never see me on camera with my shirt off. Will played Muhammad Ali. I played Pookie [in the 1991 film New Jack City]."
Addressing the Slap specifically, Rock said that it did in fact hurt, noting that he "got it so hard—I heard 'Summertime' ringing in my ears," per Huffpost.
*deep, heavy, Negro spiritual sigh*
If I'm honest, I can't say that any of these just made me crack up laughing, but I know delivery has a lot to do with it and it's hard to translate a joke in writing. However, if these are the kinds of jokes we're in for, I'm not too sure I'll be clamoring to watch this special live. Will you?