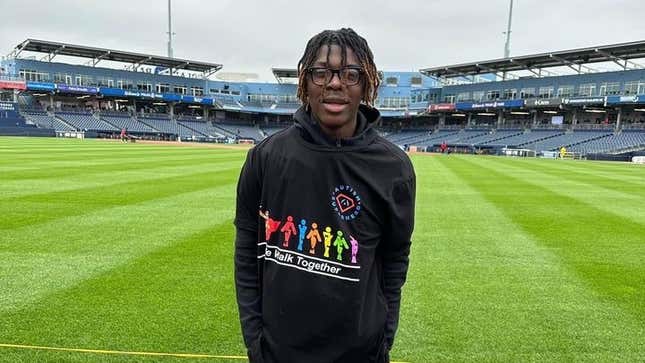 What was supposed to be a humorous reaction to eating a super spicy tortilla chip has claimed the life of a 14-year-old sophomore in high school.
Tackling A Black Maternal Health Crisis & Embracing Reproductive Justice | The Root Institute
Harris Wolobah's mother, Lois, was called by the Doherty Memorial High School nurse Friday who reported her son had a bad stomach ache after a classmate fed him the Paqui One Chip. The chip's package (which is the shape of a coffin) says it is seasoned with the world's spiciest peppers: Carolina Reaper Pepper and Naga Viper Pepper. It also warns consumers not to eat if they have spice sensitivities and to contact medical assistance if they have difficulty breathing or pass out.
You might be wondering why someone would want to put this in their mouth. On social media throughout the past year and a half, people have gotten a laugh out of the reactions to their parents or even grandparents eating the forbidden triangle. Many students took part in the challenge as well, leading some school principals in California to issue a warning about the chips, per NBC Bay Area.
Wolobah returned home feeling good enough to bounce to basketball practice. However, his mother told NBC10 Boston his brother found him passed out on the ground around 4:30 p.m. He was taken to a nearby hospital and pronounced dead.
Read more from NBC10 Boston:
A Worcester police spokesperson confirmed the agency was investigating the teenager's death but didn't say whether the investigation was focused on any potential criminal activity.

While Harris' autopsy results are still pending, his coach, friends and family are warning others against social media challenges, especially this one where you can buy the chip in stores or online — that local doctors say could kill you.

"It could cause difficulty with breathing. I think it could cause issues with the esophagus," Dr. Lauren Rice, of Tufts Medical Center, said.
Wolobah was remembered as a rising star by the Worcester public schools chief and a hard worker by his basketball coach at St. Bernard's.
"The first thing was shock, like when they said the name, I had to literally ask a hundred times, like if this was him. Very quiet kid when you first meet him not a child of many words, smiled, very positive. In a million years, you never would've imagined any kid nevertheless Harris, so it was definitely difficult," said Coach Douglas Hill.

If there's any justice and good common sense left in the world, Wolobah's story will put an end to the desire to participate in this social media challenge madness forever. Rest in peace, kid.