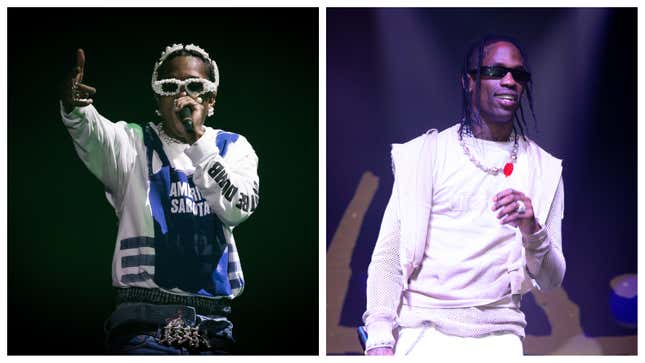 With less than a month before hip-hop's official 50th birthday on August 11, it seems yet another potential beef may be brewing, this time between rappers A$AP Rocky and Travis Scott.
Kanye West Needs To Stop Bullying Black Women
Or at least, that's what fans are suspecting after the former's most recent performance at Rolling Loud Miami. You see, during his set over the weekend, A$AP previewed a new song—which isn't unlikely for artists down there—but there's one particular line that has folks raising their eyebrows.
"First you stole my flow, so I stole your bitch/Then you stole my style, I need at least like 10 percent. All due disrespect, I hope you take offense," he was heard saying.
Now, of course, this could just be a regular degular case of a rapper talking their shit as usual, but fans online are putting their money on that verse being a direct shot at Travis Scott and here's why: In 2015, Scott and Rihanna reportedly dated for one year, even though neither one of them never confirmed their relationship status back then.
However, it became apparent that the two did have a thing going on after an interview between Scott and then Complex writer Lawrence Schlossman went live around that time, breaking the news that they were indeed a couple. (much to Scott's disdain, according to Insider.)
Additionally, over the years, there's been comparison chatter between both A$AP and Travis, though the "L$D" rapper didn't seem to pay it any mind during his interview on the Drink Champs podcast last year.
"I saw similarities for sure, you know, I saw that he [Travis Scott] was inspired and shit like that, but that's what we in it for," Rocky said. "That's good sportsmanship. I put it to you like this: If niggas wasn't biting off... Imitation [is] the best form of flattery. If people wasn't trying to imitate you, you're doing something wrong."
So, given the two's respective dating history, and their musical/stylistic comparisons, what do you think? Was this a diss or just rappers talking shit?